OptiClimate: optimum climate control 365 days a year
Creating a completely enclosed and easily manageable growing environment is the ultimate goal of the modern indoor gardener. With an OptiClimate System in place you are able to take an unprecedented level of control over the area surrounding your plants. It lets you select desired day and night grow room temperatures and then continuously treats the air (heating, cooling, extracting, etc) to reach and maintain these targeted settings. If you want to grow great plants for 365 days of the year, underconditions that remain exactly the same whether you're in summer or winter, OptiClimate is the system for you!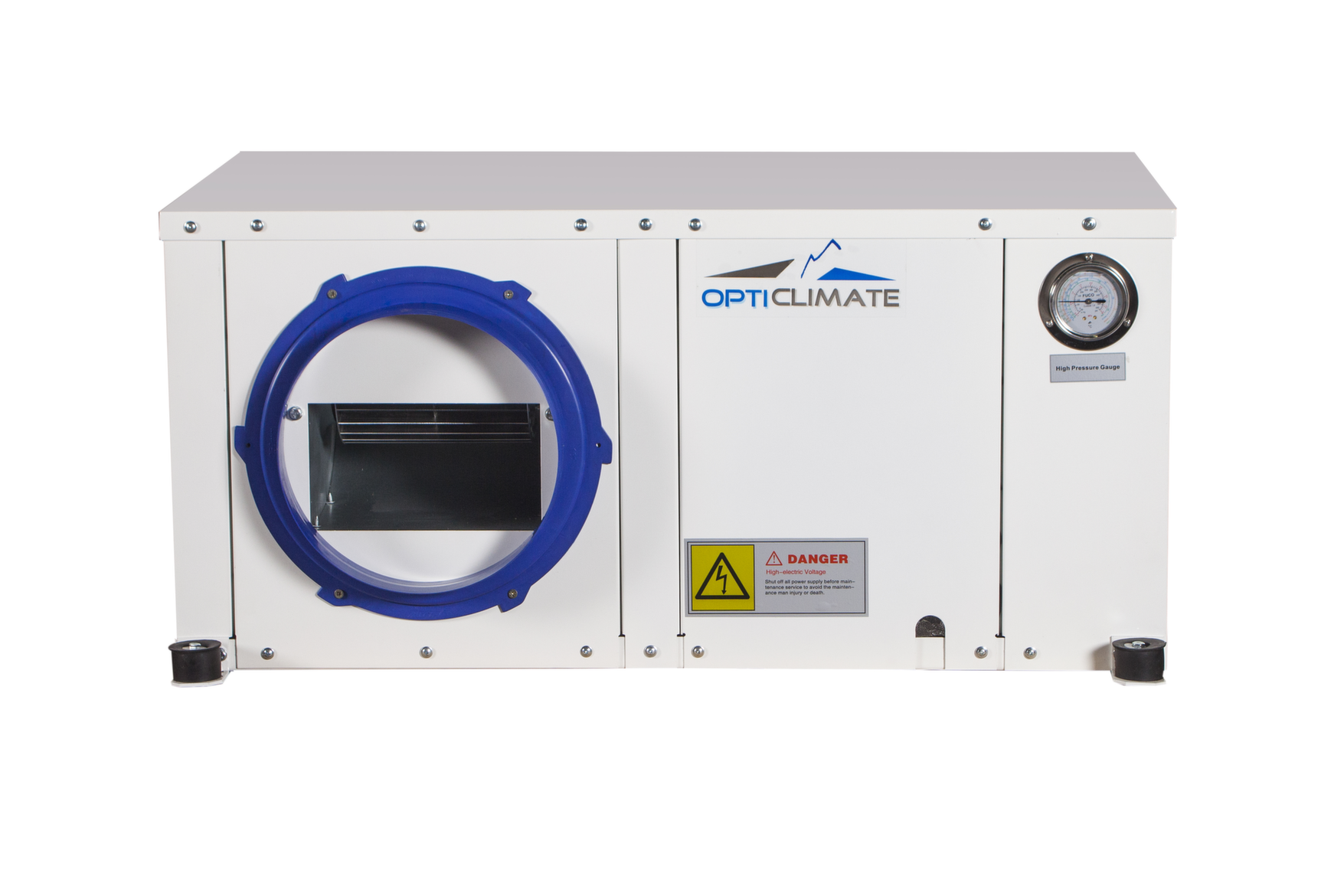 What is an OptiClimate System?
The OptiClimate System is a water-cooled climate control unit purposely designed for the indoor horticultural market. Large-scale grow tent owners actively extracting air and introducing fresh supplies can use this awesome product to establish precise temperatures and then rely upon it to respond when necessary to hold them steady.
<img src="data:image/jpeg;base64,/9j/4AAQSkZJRgABAQEA3ADcAAD/4QBaRXhpZgAATU0AKgAAAAgABQMBAAUAAAABAAAASgMDAAEAAAABAAAAAFEQAAEAAAABAQAAAFERAAQAAAABAAAh1VESAAQAAAABAAAh1QAAAAAAAYagAACxj//bAEMACAYGBwYFCAcHBwkJCAoMFA0MCwsMGRITDxQdGh8eHRocHCAkLicgIiwjHBwoNyksMDE0NDQfJzk9ODI8LjM0Mv/bAEMBCQkJDAsMGA0NGDIhHCEyMjIyMjIyMjIyMjIyMjIyMjIyMjIyMjIyMjIyMjIyMjIyMjIyMjIyMjIyMjIyMjIyMv/AABEIAoYEfAMBIgACEQEDEQH/xAAfAAABBQEBAQEBAQAAAAAAAAAAAQIDBAUGBwgJCgv/xAC1EAACAQMDAgQDBQUEBAAAAX0BAgMABBEFEiExQQYTUWEHInEUMoGRoQgjQrHBFVLR8CQzYnKCCQoWFxgZGiUmJygpKjQ1Njc4OTpDREVGR0hJSlNUVVZXWFlaY2RlZmdoaWpzdHV2d3h5eoOEhYaHiImKkpOUlZaXmJmaoqOkpaanqKmqsrO0tba3uLm6wsPExcbHyMnK0tPU1dbX2Nna4eLj5OXm5+jp6vHy8/T19vf4+fr/xAAfAQADAQEBAQEBAQEBAAAAAAAAAQIDBAUGBwgJCgv/xAC1EQACAQIEBAMEBwUEBAABAncAAQIDEQQFITEGEkFRB2FxEyIygQgUQpGhscEJIzNS8BVictEKFiQ04SXxFxgZGiYnKCkqNTY3ODk6Q0RFRkdISUpTVFVWV1hZWmNkZWZnaGlqc3R1dnd4eXqCg4SFhoeIiYqSk5SVlpeYmZqio6Slpqeoqaqys7S1tre4ubrCw8TFxsfIycrS09TV1tfY2dri4+Tl5ufo6ery8/T19vf4+fr/2gAMAwEAAhEDEQA/AG6V/wAgyH8f5mr1UtJ/5BkP4/zNXq0JEp3agU6gYU4CkxTwOaAALxThwKUCnYoASlAzS4pwFACAYpwpQM07FAgp1FOoBBRSgU7FMBADTsGnAU4UANC8U+lopCClpaKAAUUUooABS0opaYxBS0CnUgEpaKKBBS0UUAFFFFABRRRQAUU8AYowKAFooooAKKWigAFFApaACiiniJ27UrodhlABPQVYW3H8Rp5ZI+gFS5dilEhW3Y8nAFTLEic9ahkvFHSqr3TufSptJj0RoNMiCq0l52Az+NUyxPU0lUoIXMStOz9sVHkk80lFXZCbL2l/8fWfaoL3P2yT61Z0r/j4NVr3/j9l/wB6pW4ENFFFUSFFFLQMSiloxQISlopyqzdBSHYbQKsJZyv1GB71bjso0Hzcmk5JD5WZywu/RTVqKwY8ucVeCgDgYoaVUHJrNyb2KSQ2O2jTtkjvU/yr3qg9+Bwikmqj3Esh5PFHI3uPmRpSXca9wcehqtYziS6mIH8OapVPpnFzL/uGq5RXLUV+jfe45q2kqP8AdNYCD5akV2U5BNL2YcxttGr/AHgDVaTT0b7pxVaK/kQ4bkVdivYpOM4b0NK0oj0ZnyWciHgZFVypB5rfBDDI5pklvHJ1UU1PuJow6K0JNN5JRvwNU3hkiOGU8d6tSTJcSOilopiG0UtH4UwG0U6kNNANpKdTT1oA0NL+/J9KoOP3r/U1oaUDvk+lUX/1jfU1C3KYiOydDVlLxgeaq0uKbihXNaK9B64NTfuZh8wAPrWIOKekzr/EcVm4NbFXRpvY942z7VWeKSM4ZTRHfEfeJq4l2j4BIb2o5mtwtcz80taBgt5enyk1A9nIudvzD2qlJE8rK1FKysh+ZSKSqFYSilpKYhKKWigBKKKKAGHqaSpKQ9KAGUUuDSYxQAUUUUAFJS0UAJSUtFADaQ0+m9qAG00080lMY2kp1JSEJSU6koAbTGFSYpCOKAIiKYanIphFMZCaSpCKTFAEVNNSYpMUgIqaamxTCKAI6aRUhppFAyM001KRTSKAIsc0hqSmkUAR03FSYpp6UwGVyuof8f8AN/vV1eK5PUP+P+b/AHqQmdBo/wDyC4f+Bf8AoRq/iqOj/wDILh/4F/6Ea0AKAQlOAyacBTsUDEC04DmiloAUUoFAFPAoARRTwKAtOAoEAFLilpwFACYp2KXbTgKAEC80/FLilAoAQU6jFLQIMUtFFABRS0uKYwpRQBS0AFKKQCnUhBRRRQAUtFFABRRS7TQAlGM0u005QRQAKOKWiigAooooAKWilAJPApDsJR3qVYWPepVhVetS5IaRXCM3apltvU09po4xyRVaS+4+UVN2x2Rb2InOKhkvI4888+lZ8lxJIOTxVc5pqLe47pF2TUGbhePeq5mZzyaiHWnrVKKRLY4U4U2lFWIdRRRSEFFFLigZe0r/AF5qveD/AEyT/eqzpQ/0g/Sq12f9Lk/3qlbjsQ0UZozVXEFFPWN36Kasx2R6ualyQ0mUxknAFTJbSP2xV9LeKPovNS9Khz7FKJVjskH3uasrEqdFFMa4jTOSCRVWS/Y8IAPekk2O6RfJCjJOBVeS8RCQDkiqLSu/VqZVcgnIne8kfpwKgLFuppMUYq7Im4gpaXFGKYhKsab/AMfMn+4ar4qzpg/0mT/cqWNFRPu06mp92nYqhBSd6dRigB8dxJGeDVuLUT0cfjVGipcUylI2o50kHykVIQCORkVggkdDip47yWPHOazdN9Crovy2MT8gYPrVKSwkTlfmFW49QVuGGKsrIkgyrA0LmQnZmEyMv3hikrdaJJBhlBqrJpqNkoxWqU0xOJmGkqxJZyx9iR7CoDlTgjFXdE2G4opc0UwL+lf6x/pVCT/WP9TV/S/9a/0qk4/eN9aS3GR4opxFJg1QgooopAJSgkdDRRQFyaO6dD1z9auRXwOOcGsyiocEylI3fMjlXa4Bpj2cbjMbYPoaxxI6nhjViO9ZT83NTytbDumTSW8kXUfjUP1q7HeqwwSD7GpCtvMOQAT3FNStuLlM+kq5JYnrEwI9KrNG6HDKRVKSFZjKSlpKq4gooxRQIKawzTqKAGYPpSVJTSCTQA2iiigApKWigBKKKKAExSU6kIoAbSU7FJjmmMZRTsU2gApKWikIaaaRTzSGgCMrzTSKk70m3NAyEim1MUphWmBHTSKkxTcUgIiKaRUxFMIoAiIpMVIRTcUDI8c00ipCKaaAI6aRT8UhFAEZFcnqX/IRm/3q641yGpH/AImM3+9TEzotHH/Eqh/4F/6Ea0QOKoaOP+JVD/wL/wBCNaIHFIYYpRSgU4CgBAKcBQBTgOaAACngUAU4CgQAUoFKBTwOKAGgc08CgCpMUAJgUuKMU7FABiloxS0CCiiloGJS0U7FMBMUoBzS4paVwEpaKWgQUUUUAFLRRQAUUU7b70AAU5p1FJSGLRSUUALRShCegqUQeppXQ7Mhp6ozGpSEQdKfakSzhe1LmHyjFhA61J8iDtVW8leO5kjHQHiqhdmPJNJRbHexfku1Xgdaqvcu/QkD61DxS1SghXAkt1P60hpaKqwrjcUhAxTqQ07CGYpRS0YpCFFOpopwpjFFKBRR0pALRScnpmpUgd+2BUuSQJFvSf8Aj4P0qvcozXT4Hc1esIPKl571JIirM2B3rPm1LsZsdo7fe4q0lrGhBIz9amZgoyTioHuUTocn2o1YaFhVC9ABSNIidTVB7p36HFQkknkk01DuDkXZLwAYUVVed3PWo6KtRSJ5g5PU0lLRVCCiiigQUUUYpXHYKKljt5JOgOKtR2A4LGlzIaiygAW6CrmnQus0jEdVq6sMca8KOKW3P7xhntUOZVjG8l1HK0lbYjR05wQagksUfOOPpTU0JxMuirMllImSOQKrMrKcEEVV0TYKKSlpiCiiimAU5XdPusRTaKVkNMtxXzrgNyKux3ccnfBNY9FS4IrmN8YYdjUUttHKOVFZMc8kZyHP51civz/EMiocWth3TGS6d3jNVHgkjOGU1sxzpL91hn0qQqp6gH6imptbhymbpnErf7tUn/1jfU1tRwok7bRjcKoT2EgJZeec01NXE0U6TFOKMvBGKbzVk2DFJinUUxDcUUtJigApKWigYlFLSUwD6VIk7x9DUdBpOKY7l6G+I4biriXKOMHBFYlKCQcgkVDh2HzG00EEnI+U1XezkXkfMPaqcd0698/Wr1lO0knB7VOsR6MqkEdRSVeE6SEiRQee1BtIpBmN8fWqU+4uUo0VNJbSx9RkeoqE8VV0TYKKSlpiGlTmkK4FPpCMjFADKKXB9KSgAooooASilpKAEpKdSUANxTcU/FG2ncYzFJT8UmKAG4pMUpopWAaRSYp1FAhmKaRxUmKbigZFim4qXtTMUARkU0ipCKaRQBEaTFSEU0igCMimEVIRTSKBkeOKaw4qXFMIoAiIrkNRH/Ewn/3q7IrxXH6kP+JjP/vUCZ0ejD/iUwf8C/8AQjWjjis/Rf8AkEQf8C/9CNaIoGKBTsUYpQKYABTwKFFPxQIB1p2KQCn4pAApQM05QDSgUAKBS0YpaBBilopaACiilpjCilFKBRcAApcUYpaVwCiiloEFFFFABS0UUAFFFKAMUhi7RinUlOCE9qLodhtAye1WFg9acRGo5qeZD5WQrESalWIDrUT3aJwvJqB7ln6HFLVhsXTJHGMbhVeS7B4WqhJJyTRVKCDmHtIzdTVzSv8Aj5B96oVo6T/rx9RRJWQJkOqf8f71Uq7qn/H+9U+1OOwmAoooqhBRS0UXASkIp1FADMUU4ilVS3QUr2Cwg604VNHaseTxVlIEXqM1LmkVylJI2c/KOKsJaf3qtAAdBigyKvU1Dm2PlGpEidFxUlVpLsZwo/GoGmds88UuVsNDVtnUzDBBxVO7uSLiRRxg07TDmc/Sqt3/AMfUn+9TjHULkbSM55NNxS0VpZEXCiiimIKKWigBKKcFZuAKmjtJG5PApXQ0ivinLGzNgAk1oR2iLyRmp1VV9BWbqdiuUox2THluKtx2sajOMmnPcxp1bP0qrJfH+EYpayHoi9lVHUCoJLxEyByaznkZ+pNMqlDuHMWZbx36cCk05ma5lJJ+4arVZ0z/AI+Jf9w02kkK5FFcSpjDHjtVyO/B4cfjWctOpuKFzG1HKjjhgaVoo5B8yg1iDI5BqxFeOnBORWbg1sO5YlsFPKHHtVSS1kj/AIT9a0I7xHOG4zVgFWHBBpqTQWRhYxwaStp7aOQYKge9U5tPYcpVKaYnEo0U94XjOGU02quKwlFLSUwCk5FLRQAZI5BIqeK8kj96goqXFMaZr2k/nS5I6Cpw6N0YGs/TP9a/0qoZHWVtpxzWfJdl3Nl4kf7y1Vl09WyUOKhiv3U4fmrsd3FJ3x9aNUKxlzWssXUZHtUPTg10AYMOCDUMlrFJ1UZ9aan3FymJRitCXTmHMZz7VTeGSM/Mp/KrUkxWI+9JiloxVCEpKWigBKKWincBKDRRQAlaOmj52/3TWf2rR037zfQ1EikUWcrK2D3qeO7I+9VZ/wDWN9TTafKmFzWivQR94fQ1KVhmHIAPqKxPpUsc7x9+Klwa2Hc0JLFusbAiqrRvG2GFSRXw75FW1uI5V6A0uZrcVjPorQa2ikHy/Kaqy2cqdOR7U1JMTiQ00rgUuCvBBFB5FUIZRSkYFJQAUlLRTEJRRRQAlFLSUAJikIp1IelAxlFOIptMBKKWkoASm4p9JSEMxSMOKdRQBFimkCpSKYRQMjxTSKlIphFAEWKaRUpFMIpgRYpCKkIpuBikMiNcbqX/ACEp/wDfrtSOK4rVP+Qncf79BLOm0Qf8SiD/AIF/6Ea0gKz9C/5BFv8A8C/9CNadBQU4CkA5p+KAEFOFLilAouIUU9aFpwoABilHSlFFABS0UtAgoopaaGFFKOtLQAClFApaQgooooAWiiigApaTNKAT0pDCipFjJqdYcDnFS5IaiVlUntUqwse2KkZ44xyRUL3nZRRdsdkicRqgySKY1zEnTk+1UnlZzyaZSUb7hexZe8Y/dGBUDOzdSabRVqKQuZhRRS1SEFFFFABWhpP+vH1FZ9aGk/8AHwPrUyGhmqf8f8lVKt6p/wAf8lVKFsDEopaKdxBRT1iY9BUyW3djUt2GkVvwqVYXP8NWliVegqTgdeKlz7D5SBbZR15qYIB2FNaVFPXNQvdE/dFTqytEWshRkkCo3uUUcc1TaRn602q5ELmJ3uGbpxURZj1NJRVJJEthRRRVCL2k/wCvYe1V7of6XJ/vVZ0n/j4P0qtd/wDH3J/vVC3KIaWinLEz9BVuyJG0c9AKtR2Z6txVlYEXtmoc0VylFIHfsasx2ij7xqxlV64FRPdInTmo5mx2SJVRE6KKVpUTqwqi9y7jjgVAdx5JqlC+4c1i7JegcIKqyXEjnk8VFg0VSiieYCSe9FGKXBqkITvS7TSDrUqqzdBSbCxFVnTf+PiX/cNPjsWPLYqzaQIkjADqtRKSKSMkUtX3sOMrjNV2gkTqtUpJisQUnNSfUUjdaYhvNOSR4zlSaFHPShutFguW4r9l4YZq3HdRSD72PrWPT16CpcEUpG0QrjnBFVpbFH+7wapJPJGeGq1HfjjetRZoejK8tjKnKjd9KrlWU4INbazRv91hQ8SOMMoPvT52tw5UYdFaM1gCcoaqSWssfVcj2q1JMmxDSUp460UxFzTP9c/+7VN/9Y31q9pv35P92qTfeb60luMbR06UUUwuSpcSxkYarkWojpIMe9Z1FLkTHzG4k8bjIcU4qrjkAg1ghmB4OKsR3ksfBYkVDg1sO5dksYn5HBqlLYSpyMEVciv424bg1aV0cfKwNLmkgsjBZWXqCKbW88SOMMoNVJdOU8qSKpTTE4mWaKnktJY8/KSKh6dRVppktWG0UtFO4CVpab1P0NZtaOm/eb6GpkUjPf8A1jfWm09/vt9TTKskKKKKACgOV6GikpWC5ZjvHXg81bivg3GcH3rLpBUuCGpG7vimHzAGons1bmNvwNZSyMhyDVqO9P8AF+dS00UrMdJA8f3l4qFunSr8d4GGMg/WnskUo5G0+tClbcTiZlFW5LFuqnIqu0Tr1FUpJk2GUlLRVCEpKWigBKKKKAENNNPpDRcYyinUh60wG0UtJQAlJTqTFIQhphFPpD0oGRGmkVJTT1oAjpp61IRTDTAYRTCKlIppFIZEelcVqn/ITuP9+u2YcVxGq/8AIUuP9+mJnU6F/wAga3/4F/6Ea0gKztB/5Atv/wAC/wDQjWp2pDEp4pAKeBTELSgc0oHNOA5pDAdaUUUooEFLRS0CCiilpgFLRS0hhSikpaAFopKWkAUtABxUix55NJySGkMAJ7UoRj0FWIIvMlCUkzrbyNGeoqee+w+UYsB71KFSP7xqq92x+7UBdm6k0WbDRF57pF+6M1Xa6kbpxUNFUopA2BJPU0UUVRIUUUUxBRRRQMWiiigAoopaAAVoaT/x8D61QHWtHS1IuVz61nJlJEOp/wDH/JVUKx6CtK+hDXrsfWowoHQVPPZFcpVW3Y9anWBVHPNSZAHNRtMo460uaTFZIlAA6UhdV6mqzzMenFRkk9TVcoXLLXKj7ozUDSs3U0yiqUUiWxaTFLRTFcSloopiCiijB7UDClp6QO/bFWUtQOpqXIaQ/SvlnJPeo5rZ2upCeBuq9aKqSDaKbPIqzOSe9ZqTuVYrrbIvJ5NTgBRwMVWe6AHy81A07ScEmnZvcNEXWnRP4uagkuyeFFVqWqUEhczEd3c8mkCnFOoqrE3EGcc0UtMyc4FO4D6QsBT44pH7VajsQeWOahySHYpgFugqVbV36jAq+sMcfakeeNOp/Cp529h8pDHYqOWP4VZAjjGOBVKS9J4Xiq7SO5yWJos3uPRF+S8jXIXmo7O5MlxIMdFzVKp9O/4+Jv8AcNNxVhJsnjvgThxj6VYWWOToQayF6U4Eg8HFHIguab20b9sGqsli4OUwRTY7uROvIq3HeRtweKWqHZGe0br1FMzg81s4SQc4IqvLYo3K8GmpicTPzSVM9rJH249qhORweKtNMloKKRTk06gABIOQSKnjvJIxg8j3qCihpMLs0Yr6N+G4PrVjcjjggisalWRo+VYip5OxVzTe1ik/hqpJp7DlDmljv2HDDNW47qJ++D6Gp95BZMr2EbRSOHGPlrPfh2z61uLgzeuRUElkjk44ojIbRk0lWpLKRCcciq5Ur1rRNMiw2iiimIKKKKBhTlleM/KabRStcLluPUGXAcZ96ux3cbgc4rGNAJHepcEylJm/kMPWopLaKUYK49xWXHcyR4wScVci1AHhxzUWcditGRTacw5jIP1qpJDJGfmU1tJMknRhTiqsOQCKFNrcXKc9Wjpw+ZvpU01ij8r8ppLSIxTMvXiq5rhaxlMcu31pKdIjK7ZB602tUyBKKWkoAKKKKAENFLSUAFFFFIAzUqXEiHrke9RUUmkFy/Hf9jkVaW4SQYYBqxqXcy9CankKTNZraOXlTtPpUD2kinI5+lVUvJE681aS+B7/AIGldodkVipU4IpKvxyxXJKsM47imG0R/wDVvz70c4uUp0lSyQSRnlajq07k2EooopiEpD1p1JQMZRTqSmA2iiigQlJS0UgGmmnrT6Q9aBkR600ipaaRQBFTSKeRTaYDCK4bVf8AkK3P++a7tq4TVv8AkK3P++aBM6vQB/xJLf8A4F/6Ea0sVm6B/wAgS3/4F/6Ea1QKChAKeBSDrUmKQCAUuOaWlFAAKWiloJCiiimAU4Ckp1IYUd6KXvSbBBS09ImbrwKmEcaD5ufrU83YrlIFRm5FSLB/eIpHulXhB+lV2mdu9LVhZFotFGMZBNQvc8fLxVfr1pMUcoXNHS3ZrxSaTVxtvTjuKNJ/4+1p2sj/AE4/SiO42zOFLQKWtCAFFFFABRRRTEFFFFABS0UYJ6UXGFFSLCW56VMsKioc0ilEgVCTwKkWAnqanAA6UFgKjnb2KsgWJV6Vbshi5T61Qaf0qzpkjPdrnsaVn1C4/UJAl29U2nPYVLqnN/JVMVcYoltji7MeTSUUVRNwooopgFLRRQAUUAE9BUy25PXilcEiGnrGzdBVpIFHUVLgDoAKhzKUSslt61OkSr0FI8qJ1NRPddlFT7zHsWuFHPFRvcKvAOTVQyO9J7mqUO4rmjYTGSYg1Susm5kyeN1WdLwZzVa55u5PZqIrUGyLb70oGKWkY4FWSLRSDJHAqVLd260OVgsRZFOCM/CiraWqL97k1OAqDAwBUOfYpRKaWjH7xxVlLaNccZ9zSPcIvTk1Xe6dunFK0mPQulkT7zAVA95gfIKpFiepJpKpQXUTZI9y7nBNMPPXNJRmqSSE2JtpaUAntUqWzv2wKTaQakA3HpVrT1YSyEg/cqzHaxoPm5PvUltt81gMcCocikjJ6UVqPbROOn4iq8lkw+6c1SncTRTpaVo2TqDTaokesrp91iKtR3xHDjPvVOkpNIdzWSeOTvSvBHIOVFZNPjupIzw1S4voO6LUlgOqGqrwSR9R+NXI75Tw4x9KsK6SDgg0uZodkzHpa1JLWN/4cH2qpJZOvKmqUkxOJWopGV0PzCjv1q7kgRmjkDilopNXC5d092MhJPQUq6gAxDj9aZp3+scf7NU2UFm+tTypsq5sJPHJjawpZIY5B8yisZcr0JqxHeSR8H5hUuLWw1Ylk09cZRjVR7aWPORwK0I72N+vymrAKuAeDS5mtw5UYNFbMlpFJ2wapSae6klTmrU0yWinRTmidDgqabVkhRiiigYlFLSUAKGYdCRU8d7LHxnIqvRSaTHzM1I79HHzDBqS3cPdFgcjFY9aGnZyfpWbjbYpO5bkiR8hlBBqpLp6H7nBqNL9gxDDPNW47qOTvip95D0ZlyWssfUZqE5HBFdBgEY4IqCW1jkz8oB9RVKp3E4mLRV2XT2HKHNVXidOGU1qpJk2YyiiimISiiigQUUUUgCiiimAhFFLSVLKRc0/70h/2aiS5Knn1qew/wCWn+7VA9T9ahRuU2asd0GGCQfrTmihlHTafUVkZIqVLh070crQaFx7Jh9xs1WaN06ipo70Z+birYljlGDg0czQWRmZpavvaxvyDg1Ve2kTnqKpSRLRCRTaecjgg02qEJim0+kxTAbSUtFIQlJS0lAxtJinYpMUDIyKYRU2KYRQIhIrhNW/5Ctz/v13xFcDq/8AyFrn/fpiZ1fh8f8AEjt/+Bf+hGtYdKy/D3/ICtv+Bf8AoRrVApFCqKfSACloAWlpKWgQtFFFGwBS0lSLGSMngUnJDSG05Y2boKeGii5Jyaa1112iou2UkiRYQOXP4UGaKP7q5NVHld+pNMFHK3uJtIsvdO3C4AqEsT1NNpatKwrhS0gpaYgooooEaGk/8fYp2s/8fv4U3SP+PoU7Wf8Aj9/Cs1uadDPooorQzCiiigYUUAGnhaTkkCQ3FOCk1IoHepKzdTsWokSxdzUqqAOlBYLUbS+lL3pBoibIHemmZRVcsSaSqUAciQzMelR5J60UorSxFwq/pX/H2Ko9qvaV/wAfa1Mthrcbqf8Ax/yVTFXNU/4/5KpimgYtFFOVC3QUXsJK42lFTrB61KI1HapcyuUrLCzVMkAHWpsimNKq981N29h2sPVVXsKUso71Wack8VEWJ60KL6hcstcAdKgeZ24zTKBnNWopE3D60oXNLgGlAxVCADFB6UtG1ieBmkFi3pXE/wCFQ3Q/0mTHrVqwiZJgx4p8sK/aXJHes+bUuxnpC7VOlqP4jVglVHJAqFrlR93mjmb2CyJljRegFDyxp1NUZJ5G6H9ajyTyetCi3uF7Fp7o/wANVzIzHlj+dJSbRnNaKKRLYUUU5YmboppuyENo68VbjsyfvcVZWGJB2/OocxpFBIHfopxVmOzA5apnnjQcEH6VWku2PC8Cpu2UkkWgkUYzgDFRyXiKMIM1RLu3ViabTUO4myeS6d+nApdPJNzLz/AagqbT/wDj6k/3appIExqTun8RP41ZS9HRhVGijlTFdmqGilGODmo5LKN+V+U+1Z4LA8Eipo7qRDycip5Wthg9pIvTkVAQwOCK0Uu0b73FTFYpR0U0czW4WMejArQksQTlOKqPBInVatSTFYipdzrypINIelA6UWAsx3kq9Tu+tW47xH68Gsuik4oEzZISReQGqvJZI33flqgs0kZ+Umrkd8ejioaaKViu9pLHk4JFQHcvWtlJo5AMN17Gh4IpByo/ChTYminp3+sb3FUiT5jD3rVggEM/y9xWfLCySsdp6+lVFg0MopBnvS1ZIhyBQsrocqxoIyKTaKVguy3HqLD74zVuO5jfow5rJ2jFNGR0JFQ4Iq5uFUccgHNVpLCM5K8GqSXMsY4Y4q3FfgjDj8aVmh6FaSykToM/SqzAqeRW4kiSDINJJBHIMMoNCm+omjDpa0JdPH8BxVN7eVOq1akmTYiooopgFaGnffP+6az60NN++f8AdNKRSKDj52+tN5HSnN99vrSUyR8dzLH0arUeoA8OPqaoYpMUnFMpM20ljk6MKc0aMMEAisLcynKkirMd7ImMnIqHBrYpNFuSxiblflPtVOWykTlRuFXI71HOG4qwCG5U5pc0luFkzDZWU4YYpMVtSRJIMMoNVZdPB5Q49qtTuS4mdRU0ltJGCWXioatMmwUUUUCCkpaKGNF6w/5af7tUD94/Wr9h/wAtP92qB+8frURLYlFFFWQJSq7oflNFJSBMsJduv3uatx3qngnH1rMpMVLiVc2MxSjkD61E9mpyUas5XZTwasJdsOtK0kPQHgkj6j8RUdXUulbg4OacUhkHQA01MVjPNJVuS0IGU5qsyleoIq00xNDaSlopiG4oxS0hpDG4pCKdSEcUARGvP9Xz/a1z/v16ARzXAaxxq9yP9ugTPTfDeixPoNszMQTu4x/tGtcaHB6mo/C7B/DtqQc/f/8AQzWwzqi5ZgB71z8zNbGLcaRDEuVc5rMltpIyflJHrWjfXRlk+TOBUMdw2NrjcKpSFYzx70FgK0ZYIbgfKdrVlyWsiSFSwOPQ03MSiODZp4x3NMS3lAxtJp3kSn+E1Kd9x7DzKF6AVE0rN3p32aT0/Wl+yyen61asJkNFT/ZZP7v5Gk+zSf3G/KquiSGnVN9mk/uGj7LJ/dNHMgsRUVKLWT0p32ST0/WjmQWZBS1N9lk/u0v2WT0/WjmQWIKKsi0fvgUfZTRzIdifSf8Aj7H+fWnax/x+/hTbXNrMHPOKW7JupvMHcVmnqVYoUVY+yml+ymqcxJFcLmnhR3qwLY4pwtzWbk2VZFdQKDgVYNs3amm0buaaXcGyDzPQU0ysas/Y/ej7EfWtFyojUqd6dVn7E3rS/Ym9RT5kKzKlFXPsR9aPsR9aOdBYqClq2LI460fYjn71HMg5WVM1f0r/AI+gai+wn+9+lWbVBbShs9KmUlYpIh1NWa+fANV0hJ5NaM2Jpi645pnlH2qeZjsV1iA7VIoCjjAqXyTTGtmb+LFLV7jtYYZFXgmomn7CpfsDH+MUfYD/AHhVqyE7lYuT3ptXPsP+1R9hb+8PzpqaJsynRV37CfVaPsDeop8yCzKQ60/tVsWDf3hTxY4PLA0udBylIAnoKeluxPIIq8tsF6YqQQ471LmUolRbdR1qUKFHHFStET0NQtZyP1kAqdWBNbSK0uB2FVbudvPdQcc1YtYBBJneDTJbTzZGfeOapNJiKGSepzSVcFgf74pfsGf4xV86Jsylmlq6NP8A9oU9LBQcls0c6Hymeqse2amS2duox9a0Rbqv3aXyz61nKY+UqJaovJ5qUvHH3FOe3kbo4AqI2JPJkBpb7j2GvdgZ21WaZ26mrP2A/wB8Uv8AZ5/56D8qtcqE7spe9Gauf2e3aQU9NPH8Tg/hTckTZlH6CpY7d36A4rQW2RelSbcDAxUubKUSoloqjLc1Lb7BKwAA4prwzOT+8A/Gm2to0czsXBJWlcYrWqOMjiq0lo6njkVZjt5E6TA1YVTjBYGkm0GhjlWU8gikzWy0COOcVXfT1blWArRTJaM6nLIynKkirv8AZp/56D8qb/Z5/wCeg/KnzRFZjUvGH3uaspcxSDrg+9Q/2c3/AD0FH9nN/wA9BUuzKRLJbRydh+FVnsX6rzVhLWVCMSggdqsrGQPmbNTdoLGK0bocMpGKaa3DEGGDg1XewjbocGqU+4mjKoq8dNYniRaBpsn99arnRNmUehzzU0dzJH0Yke9WRprHrItJ/Zzf3xSbQ1cltZjNLlh0FT70fjI+hqK1tDEzfODkVF/Z778iVetQWSSWsb8hQCfSqslk68rzV6OGZOsgNTBT3xSu0KyMNkZOopnQ8mt14VccgVWk05H6NirU+4rGYCDTcc9KvjTHHR1pf7Mb/notVzoVjOorQ/stuzrR/Zbf3xRzILMoBmU5BIqeO9kTqc/WrH9lt/z0Wj+zG/vrSdmGo+O+jbhjirAZJBwQap/2W/8AeWnx6fKn3ZRWbS6Fokks45P4QD61UlsHX7nNaEccq8OwNSbfcUKTQWRgNG69VIq7p33z64NaDRhhg7TUMdvsnJXGCKfMIxz99vrSVeOmPuPzrSf2XJ/z0T8605kTZlKmmr/9ly/31oOly/31o5kKxn0Ve/suX++tKNKk7utHMh2ZQp6SvH901c/st/8AnotJ/Zcn99aLoNRsd+w+/wA1bjuY5AMMPzqt/Zcn95fzpBpkoOQ6j8ahpMpF44PvUElrE4+7g0R2twn/AC0U/jVhY26MR+dTsUZslgy8oc1VeN0+8pFb3l+4ppgDfeANUpEuJgd6XNasumo/KELUB0qQdHFVzJoVtQsf+Wn+7VE/eP1rUtbR4S+5lORiq506QkkOuPrSUkNopYpKvf2bN/fX86b/AGbL/fX86vmRNinRVz+zJezrSf2bMP4lNLmQ7FOirf8AZ0/qv50v9mzd2X86OZA0U6aRV7+zZf7y0n9my/3lp8yFZlAEjpUizOOKtf2bL/eX86T+zpf7y/nU3QxqXTL/ABVMLxGGJFBqP+zZf7y/nSf2bL/fFS0O5L5cEx+RwD6VG9u6dBn6VGdMn7SKPxpy299D/wAtUYD1pKTQ7EZGO1J+FT+buBEiDd6imbKvmJsOtLY3UuwcE9K0DoEh/jFVrRjBOr46V00UqzIGU1DkOxgDQHzywrz/AFrRmGsXQ2j7/pXsNea67Mi63djcPv8ArS5mBFoOr3VppcEaNlRuwD2+Y1vx6yJxiQkGuR0n5tNhb6/zNXxUdS1sdMrpIMqQaCM8VgRTSR/dY1u6exuoznqKdwEYbehqrMWZtwYg1ZlyspRuoqMpQBFHJLnBc4+tSyR3CjdksPUGmFKmjuGjG0jIqkyWiv58o/jNL9olH8Zq2UguBx8jVXls5I+R8y+orRNCsxn2iX++aX7RL/fNRdKWqsiWS+fL/fNH2iX++ajpKVguTfaZf79H2mX+9UVFGiDUmFzL/fNH2mX++ahzRU8yKVyb7RL/AHqXz5f7xqEU6obuNFu1zNJsJzkVBl42Zc9DVvShm6WoL5Nl5IvbNEY6g3oNE7DqaX7U/Y1BRWqiiLk32mX+8aPtEv8AeNQ0tVyoLk32mb++aT7TN/fNRUUcqC5N9pm/vml+0zf36hoosgTZN9pm/vmj7TN/fNRAE9KeIyaltIeo4XE2fvmnCaY/xGhYwKkGBUOS6DSFV5ccsaeJG7moi4Xmo2mJ6Cps2O6Ra84460+FvNYr7VnlmNXtNGZxVcthcxXMrRuVB6UfaZP7xouxsu5F96hq0kJsnFzJ/eNH2mTsxqGjmnZCuyb7VL/eNH2qX+8aiAJqQQE0vdQ9RftUvqaeJpm6MaFhA61J8qjsKhtdBgrS92NShz6moTMo4HNRmZj04pcrY+ZFky4HJpjXWBxyaqkk9TRVqBLkSm4kJ60faJPWoqQ07ILkv2iT1o89z3qMAntUi27Ue6GpYtXZywPpUQM24gE1btIQr+ppkkiRsw461mtyhiJJ/ExqbOB1qubn0FQtI7d6fI2LmRca4VR1qBrtz93iq/PeiqUUhXJfPkz1pftEmOT0qMDNSLA7dsU3yoLsPtD+tKs0p6GpEtQOWNS5jjHapbXQaI0E7HLMQKsjAGS1VpLschRzVZpXbqanlbHcvPconQ5qu92x6VWPNGDVqKRLZN9pkpPPk/vGlS2kbtirCWiryxobQakKzTMcDmrFqJfNbfj7tOaWOJcDFMtbjfcuMdFzUO5RXMk68HIpBcyj+I1bFxFJweKR7VJOVOKafdCKv2mQ/wARp63bjrzSPZyJyMMPaoSpXgirtFi1LyXiN1+U1PkMPlasinrIy9DUOA0y+6TdUeqry3Cdc09L1hwwzVlZopR1/A0WcR3RR+1TH+Kj7TL/AHv1q1JaI/KnBqu9pInv9KaaZLuN+0yetOW7devNQEMOopKppCuzQS7RuuQasK6sOGrIpyuyng1DplXNCSKRuUcg+9VX+0R9c/hTkvWH3hn3qylxFJ1/KlZoLkNk7tM+4/w1Va5dXPzHrWlGq+eduOV7VUlsTyVOfammhsh+1zf3qQ3c2etMaNk+8ppg69KtJEXZN9rlHep473s/NU6KHFDuaqTxyDIbH1qQ8jrWGCynNTx3ciHjn61m4DuX5Enx8j1VeS5j6k1LHfqcBxirIeOQcEEGjVBuZn22b+9R9tm/vVeltI5BxwapyWMg5XmqUkxNMb9tmzndS/bZf71V2Rl6jFJVpJiuywb2bs1J9sn/AL1QUlHKhXZN9rl7kVZsXeSYkkniqFXtP6t9KiSRSZZV43Jw1S7B61ibmVjg45qeO9kTGeRUODK5kXXWXqjc1Wee7TrnFTJfRvwwwamyrjqCKFdbi0M4304OC1J9un/vVcktI37YNVZLCQfdIIq1KLFZjPt0/rSi+l7/AM6gaJ0OCKZV2QtS19vl/wAmk+2zetVqKFFBcsfbpvWk+2y+tV6OKfKguWftsvrSreuDz0qrRScUFzRS7jbqSKlJDLw1ZFOWRl6GocCky9YFmnk3E9KmkRyco2KhsD87t7VMk6ucZGazsyio811H1NRm9n/vVonafQ1C9rG/bFUpdxFM3k/96j7bN/epz2TjlTmq7Iyn5hitPdFqT/bpvUUn26b1H5VXpKOVCuWft0vt+VJ9tm9R+VV6KFFCuT/bZvUflSfbZfUflUNMxzQ0gTZZ+2y+o/Kk+2zeo/KoMUoWpbQ9Sf7ZMe4/KmGWZzyxxQFp4GKi5Ysa+tTACod22npLvOKQEuKmineI5U1HjikpMC4+pTEcV5drsrvrd2xY5L16GxGOteba3IP7Zuuf46diWbWgoG0O3J77v/QjV8w46VDoFsV0S3G4HG7p/vGtLyG9RWjUWCuUcY610GgEcishrOVu4rU0SNobjYx6isrF3G62TFcq6nBNVI704+etHWoDJKmD24rL+xv/AHhQMupKkgyppdtU0tZFOQ4qzGsij5mU0hC4IPFTR3LpweR700getIRTuBMfs9x1GxvWoZbOSPlfmX2phXFSJcSRnrkehq1IlorfXim7hmr+YLnhxsY96hfT9pyJcjtxTcxcpWLA9KBzU4tP9sU8W2B94flUO7KSSK4UmnbcVY+z/wC2Pyo+z+rj8qpJCuQZoqf7N/tj8qPs3+0Pyq7omzLGlf8AH4tGrrtviR3FP0+PyrxOc/hUmqw+Zdbt2DjpUxfvDexk0VY+yn++KPsx/viteZEWIKKsfZT/AH1o+y8f6wUuZDsyvRU/kIOsy1J9lGP9YppOoh8rKwGakWL1qYW4/vL+dP8AJP8AeFZuTY0iIKB0pcgU8wE/xqKb9mz/AMtVoS7jGGUY4qMuT3qb7J/00WlFp/00WrSiJ3K+c0VY+yf9NVpfsn/TVKd0TZlatDS+blfrUH2Q/wDPRat6fD5dyuWB57VMpIaTK2pKBfSY9arDJ6VpX9sJL1yXUVEtuij/AFi0KasOxUEZNTJDxzU/lIP+Wq0FAOkqfnScmwtYYFC9qC6ilMJP/LRab9nz/wAtVoST3AYZfQVGST1qf7L/ANNUo+yH/nqn51XuoWpBRU/2U/8APVPzo+zH/nqn50+ZCsyuSBRz6VaW0XOWmSpFgiX/AJaIaTkg5SqsTN2qVbcd6shV7SJ+dNaMt0lQfU1Lk2VYbhE9KY1wo4HJpTasesqn8aT7F/01ShRXUCaxkaSfnpVW5/4+HHvV2zgMUv31P0qKe23XDnzFHPenFq4MpUtWRaD+KVacscSfxBqrmJUSsI2btUyWvOWNT74wODUbS56NUOTZVkOConpSNcoBxzUBXcfvU0xH1FNJdRCvcO3TgUwsTTvKOOooETZ6U00g1I6esbN0FWESNeoqUTogwBQ59gsQpaHq5qbbFF1xUUk7MOGAqAjccmQfjUavcZZa8VRhRUD3LvSCEY4kWnpbAnmRatWQtSA5Y1YsUZbhyR1WrMdvEvdc/WpYkUSEhl6etS5hZmTyD6U9JnU8GtJreFxy4FQNp4J+SVfxquZdQsxqX3Zl/EVMGilHY1D/AGc3/PaP86PsLL/y3T86XujuxZLMEZQ81WeCROoq2iPHx58ZH1qdXix88qZ+tJSsFjI+tH41pvHav/y1QfjVdrWLPy3Ef4mq50TYhSeRDw2atJeqRh1x71D9lX/n4i/Oj7Kv/PxF+dD5WNXLn7mUfwmoZLEE5Q4qL7Pt6XEX/fVTx7k4M8Z/Gp1Wwyo9vKnVc/SojWuHiI+aVPzqOSO1c8yoD7Gmp9xWuZdKMirjWSdUmXHuaZ9kH/PaP86rmQrMksXJkbJ6Chb4ZIZafaRCORhvU5HUGq7Wo3H99H19ajRlFtXilHY5qOSzR+VODUItSDkTxA/71TxpKvWeJh/vUarYCpJayJ0GRUBBHUEVtAr3kj/76pkkdu4+Z4/rmmpW3FYx6Wrr2kJPyXCD61F9kGeJ48fWr5kKzK1CMy8gkGrP2P8A6bxfnS/Y/wDprH+dK6BJjYr51OG5FWkvI368VW+xH/npF/31R9kP/PWP/vqoaRSuXiscg7Gq8tgjD5Dg0yO3kUjbNHn/AHqtoGX/AFkkf4NU6rYZmSWkkZ9R6iq5BB5Fb37th/rE/Oo5LeCTq6fgapT7k2MWtCwXBP0ND2KZys6Y9CaktIykjLkHjqKbaBIzG++31pKttZEuxE0fJ9aT7C3/AD1j/Oq5kKzKtKsjoeGNWfsDf89Y/wA6Q2Df89Y/zougsxY74jhxn3q0l1G/RsVU+wN/z1j/ADoFg/aVPzqHFFJsvMiuOQDVaWyVvu5BoSCeLpKh/wCBVZQkjDPH+dTqitzLktZE5xwKhII6it0quOXQ/jUbW8MnVk/OrUyOUxKK0ZdOT+CZPzqH+z3/AOesf51ammKzKlFW/wCz5P8AnpH/AN9Uf2fJ/wA9I/zp8yCzKdFXDp8n9+P/AL6ppsJAM+ZH/wB9Um0CRJY9JP8AdqkSQxwa0LGPl1zzioTYSFjhkH1as4vUpkSXEid8irEd6Dw4xTP7Pk/vx/8AfVH9nSf3o/8AvqqaTDUtrIjfdNDIrDlRVRbCZeRIg/4FU6Q3APzSIR/vVFuw7kT2aN0yDVaS2dPcVqLEx6sg/GkkVY1y8ifTNCkxWMU5Hagc1bleN+FX8ar7KrnCwzvRtqQJTgtS5DSGKnNPC09V5xVhbXPJdfzqCisFqQRE1aFuAPvp+dO8r/aX86BFKWMKhqKAfPxV2eLEbZdenrVe0AZyKYEjOq9SBVeS7Rcgc1YlshISfMXntmqjac4PDp+dWkibleS5du+K861hj/a91n++a9LOnyf30rzzWrGX+2Lrlfv+tVoS7nT6H5sekQIHG0bun+8a1RMwFY/h850O3I/2v/QjWnTUEFyfz2xV7SGL3nPpWaORWlo3/H0fpUzVkUnck1h2SVcHtWaJn9f0rQ1kjzVzWUZAKStYZIZ5Qcg/pTftMnduajyzdBSeU2clsVEtdhol+0Sf3qety+ef5VW5JwoyanRQgy/X0qdRlpX3DNITVYzEnjgVKuWXNNCHZzTvMcDAbioZQVgdgcECo7WRpI8tT2GWkkO8AkgVZeKXG6Nty1SIqSKeSI8McelNMQpmkXgkil8+TH3qnE0FxhZFw3rTHs2AzGdy1omiWmR+c/8Aeo85/wC9TDlTgjFFPQRo6WzPeLu5p+sOy3mAccVDpWRdrUus/wDH2PpWd0mVYoCWTP3qd5r/AN6oulPVWb2HqaHK+wWsO81/71LukY9cA9zSZROnzH1ppdj1NNQbBsfsTcBnJqSWQowA9KrofmFS3H3h/uiny2Yr6DfPk7NThNJ/e/Soh0pRV2RNyQyv/eNHnSf3jTKTvRZBck86T+8aUTP/AHqYFJqQRVLaQ9Q86TPWnq0h6mgKB0p24AVN77DHAnuatWZzdJ9az2k9Kt6axa6T61LTKuO1CUJduKpmRz0OBVnUFzfOT61WZlUcDNUkIdlsctTcgsBnvTN5NOQDI45puIrksrsr4BpnmP60+VSXoWL1pJoBglfPU1IpkPc07CL6U1pQOlGr2AlGR1NBlwOtVjI3rTc81SgJsnac9qZ5sn940yinypBcf5r/AN40eY/96kVC3aplgHeldILMiEsnYmnqJT1YgVJ+7j7CkLn6CpbuOxZtBiUc5NQ3LEXD/Wn2B/0iq90T9qkyf4qSjqFxUO98U2RirYFNibbIp96dIheVsetVomAzzG9f0o8xyetTJbf3ql2RRjoKLoRColap0jxyTmmNcKPujNQtM5/iI9qVmx3LTPGo5xUD3I7Cq+TnmnrEz9FqlFIV2wMrN6UBmJ4FTJa85Y1N+6i9KV0PUgRJG6jFTpCByxqNrrHCioizueTUtMCw7xKexqBpSfujFCwknofxqZbc9+KV0OxGrcZap7ZyZXGMfLxRtij5bBot3V5nI6YoApebJ3JqRLlx1OasAwzDng0xrPjKNVXT0AkS5jbg5Bp7KHHytVB42TqKRZHXoxFDiugXLEkUq+9QF5FODxU6Xh6MM1MGgnHIGaNtxFHzWqRJwCNyj8qnezUjKGqzwSIeRTVmLUtpJA/GAD9Kc0CMOP0rN5FSJLIpAVifak4gmSvBInTkVDufOCOavxzMFzLgUm/zGwoC+560k7DK6wnAaQhR6dzQ0iIuEUfU1O1uSMg5NVJIZEPIp7j2FRsli3NWI2gfjaAaqoPlb6VH3o5RXNWJUEny46dqqyQSKSRgilsCfMPPQUq3gDEMOh60rNDuVd7DrR5h9K0MQzjoDUMtkOqHHtVKS6iKnmH2o8xqV4JE6io/rVaEk8c4H30BqyjW8g+6Aaz6TJFJxuNSNQwRsPl4+lV5LZ15XkVBFPKrYGTV5ZSFzLgZ6Adazs0VuUGLg7dh/KpBBtGZSFHp3qzv844XCj9aHtQw4Y5p3CxWeZAu2NAvv3qIMdhJp72rp2zUX8DA9jTVhMN/sKQTYP3QaavTmkI71okiLlpZomPKAVatdjSHb0xWVWhYHr9KiUS0yZreNugGaqyW7jO3FMF26scnPNWUukfg8VNmh6FBmkThl/Sk80+grU2o/YGoJLJTyvFNSQrMomRs8Y/KjzW9vyp8ls6ZOOKjWN3OFUk1d0LUPNPTA/KlTe7bVXJPYVYW1SMZmbJ/urSNcbBsjwo9AKl6jQ77OkY/fkZ/urUUtwPuxqqL6AVC0jNTMc0cugcxZjaPA388c5q0scLDIUVnH7oNIsjIflbFJQuFzUMCf3RVeWBxym36YqOK9YHD81ajuI5O+D6UmmgumZ7M68Mg/KmeZnsBWsyI45ANVpLND93g01JBYWzPyscfw1SMh3GrtqpQSD0FZ7ZDHPrREGP80+tHmt61HSZq9CUSGVvb8qb5rCnRQyzHCKcdz2FWPKt7YfvSJZPQdBUuSLsQRxTzH5VIHqafPbrCvzS7n9BTpL12GE+UegqlNIVRn64FZjsTBgBTsis6zumupGUjGKugENg0AWFQt0qZYeOafGMIvHalLBepFIGNESikKIOvSonulBwOaBKkg5PWqSFca8sKdOarvP6DFTyWiuMqarPA68batWFcb5zNxVy26MfaqKg7uRV23PyuR1ApO1x9CoZ23HgdactwOjAVXPLH61NFaSSjd91e5NXZWJLKmN+nWvPNbt3Os3RAON9ehBoLX7nzuO56V5trl0za3dksf9YehqLBc6Xw9/yArb/gX/oRrUrF0GbZotuuORu/9CNaQ8yT1Aq3NISRMZAvetPQ23XTfSstYQByc1q6KALs49Kzk2ykO1tS0yVmbEUZJ5rU1reZl2DOazPsoJzK5b2FNbDY0OScRrmpBDn5pWyf7op+Qq4UAD2pufWny9xXH8KMKoApCARTTIAKZuZugp3igFKirUYwlVgh71ZyFSs33GiC6P7mQe1RW/yRLUn31ekAOBUvUomDZowDUeOKFJpAPIqSKaSL7rfhTAaOKaYi4s8UwxMAD6imvakDdGwZaqnipI3m24U7V7mncLF3Sv8Aj8ANS6uha846AdTUemYW8XnJ71Y1eF3uMocjHSiKuBl/InT5j6mkLFutIyspwRg0lbqKSIbCl7UCimSKn3hU1x1H0FRRj5xU845H0qJS1LS0K46UuKcFqQAClz9g5SNVzUgQelIWA6UzeaVmxaIm4FIZBUVJTUUtwuPL5pvJNOVCRzx9afuVegzTuugWEVOMnir2nY+1Lj1qjkvxzVzTARdJ9aloaGaix+3SAetVdjN1rQv1X7bIfeq29RQpDaGLEBUhAA49ajMhpATkZoabFoTyPtbmoWlPrTp+WqLAqlETYuSeppMZpaeI2Paq2FYj604AngVMsQHJp+5VGKlz7D5SNYietSCNVGaYZD/DTTuPLHAqW2yloSmQLwKaXZh6CosgdBk0ZLUKIXHFhn1qMkk9akWFmGTxV6y0z7UxwwyBVXSJIdNH+kCi4g3XDn/arU/s5rN0YsOTxT5dInkcsrqN3NZ8w7GN5QUAjrmnNKsefXJ4q3d6XLaIJHkDAtjApY9Eluk81ZFANP1H0M5rhj04qJmJPJrUfRGizvnTjtUIslTvuqrpE2bKKqT0FTLbsfvcVbEWOgpjJKelJzbGlYRYo0HIH401p1X7ozSNZXG3cwOMZzVbYfQ00u4XJGnZuBxSLGx5Y4HvT4kI5wB7mpCyKck7jRfsAix9MD8TUoRF5Y1Xa4btxUeXc9zS5W9x3LTXKj7ozUDTu3AJApyWzH73FTbIYvvEGiyQioFeQ96t2cRR291prXKhcIKdZSF5HJ9KG2OxVeJ4z0NIk8iHqcelWftXzEMM07EMvcA/Wj1FYat0G4cU7yopBkYz7VG9o3VDmoCrxnkEU7dgJZLRhypyKg2sp54qZLp1+9yKsLNFIvzAZo23EVEndDwTgVZS7DcMtMeOMt8tKIggzik2hk7RQyDJAGeaZ5aqv7tPxqs87Mdq8VrwaVdmNW8xMGpAx5N+7kGossDmul/sqUjBZDUMmhM3IZQapTQGNHcunfNWUu0bhhVk+HZ+0q0n/CPT/wDPVRRdMVym21522/dK0x7NuqnNTGzkhvDbbhvOMEVpJpF2v/LRCKV7BYy7ONkkbcMcVSb77fWt6W1eCdFcj5vSlfQTISwYDNNSAwMkdCRUyXUi8E5FSXOny28hU84qqVYHkVWjAvpdo4w2Kc0MUgz0J9KzgCeAM/SrMaNHgyNtHp3pSjbYEElmcfIcn0pi24T/AFpx7Dqale652qdo9e9PjMLdWyfU1KbHYh81IxiMbR+tVmkJJ55rQe0R+VODVWS0dDkDP0qk0IrZZTxViO6dOM1AQQeaTHOadkF7Gkl6rDDDFQRqsksgPQtVWpEJVWIPepcbbDTuWZLIfwGqkkDp1BqeO9YHDDNWUnjk69aOZoOUysGtCw6N9Kmkto5RkAZ9qS2j8uRl9qblcErGWfvH60n0pzghjwaEjeQ7VUkmqurE6gs0idGNW4Lp5G27cmoxapGA0zZ/2RQ84UbYwEX0WoepSLrPGvD8n+6KZ8z+ir6DrWaXYnrinLcyJ3zRyMbZZltXPKmqbxOh+Yc1cjvAcBuKshkkXqDQnYVrmPR3rSktUc571VktGQ8ciq5lYViBvuLTKec7FplOL0EwxSfSlpKrcWxKs8i4+bgVYS8BGGGDVLvSd6iUUUmatodzuexFMnWEDLgClswSGA4OOKidYI23SsZWz0HQVnsUVVgkmP7tDj1qYQ28AzK3mv8A3V6UTXbNhVOF/urwKrgMx4HWhyBInlu3YbVwq9gtV+WqxHaknL8e1WkjROijNSUU47Vm5binXFuiWkhxk7e9XCQOScVVvJozayAkHjimkIwtJGLiXntWyke5+lY+kDNzKfat+FNozTAgluijbVHSqzSO3JJq+WhckNjNRPaA8oapWJZTNJyKkaF06qajNaWRI+OeRO5qwt2p4detU6mitJJeSNqf3jSaQyd/JIyMZ9qW2XcWHqKaVtol2gl39e1PtjgP9KzaK6Ddttb5O3zH9ewqrNdSScFuPQdKsrLGxwQBzQ9vG/Ixn2q0yTOJJHJ4rz3Wv+Qxdcfx16RJasAcV5xraMus3Q/26q6JaOu0FUOj27Y5+b/0I1pbgB1rI8Ps7aLbqikn5uf+BGtcWwzumbd7Ck7LYpDA7yHEa5961tEVkuiGPJH5VnmRUGFAUe1X9Fbfdk+1ZydykTaucTL9KymkArQ1xXMybazFiyfmNNNjYhlJ+7ShXbrUoRV6Cn8Yp8re5NyNYgOTzUn4UUVSikK7FpJX+XFIXX1qIncaioyoj4/uN9KVTxSRng/Snp92oiUxCCelAQinFgvU0oV3GVGF9TVOKJuNp6oxGcYX1NKoSM/3m9TSMxY8mpaGOwidPmb1NBcseajpwpAaGlf8fi1Lq0rx3mFOOKh0n/j8WpNZ/wCP38KAIVuY5V2zJz/eFNktgfmhbcPSq3FPRmQ5U4q1Ni5RCGU4ZSPwoAq2tykg2zL+NRyog5jOQafM2KxEo+YVNLww+lRgMG5WnT/fH0FJLuO9hu7FITmm0da00RO4UtKqE84wPepQFXoMn3pOYcoxULew9acNqn5eT60YYnJNOGKm6GJtZjyaUIBSlgBTDJ6UWbC6RJkCrVg2btPrWeCSetXtNP8Apa/WhxEmN1JiL5xVQZyat6kM30n1qtg1SsgeolOUZNKIjUsagGhyQkhkisT0oWL1qR3CmojKcUldjsSgKvcUGQDpVZSWNSBfXihoYby1ORRnLUewFOEZPJNIYNIOiimbHftUu1F60GVRwKL9gsIsI71INi9x+dV2lJpnJNVyt7k3LDTgdOa1vD7lppc+lYYUnoK2NFlW0815P7vAqZKwGvqAO2P/AHqtCREjBZgBiuYttZm1K7dSAsaHgVZmnkdipY4BrMuxX1PWVurv7JGvyqck1YjvJFtxGDgAmsx7RY5vOHUkVp29nLMgKrwT1piGFixyxJpQjN90E1pR6aqDdK1Nl1C0s1whDN7UgIY7CRuXwg96JJbO0Xk73FQeZf6i2EVljPer1ro0UPzTHzH680AZ/nz3bhVTap6CqF0zQylGX5q21dW1DagAUcDFUtVtkNwG6ZHNVFiMkuzUqQO/bip8xIMcZpjXJ/hGKu76APWBE5c0v2hI+FFQYklPfFSpa45dsUeoDGnd+nFIsLv1qbdDEOMHFMa5Y/dGKL9gHrboh+c1JblfMcL0xVYRyOcnPPrVi2QIzjPapdx3GGGOTlG5qJ7d0ORQYZFyy80q3EinBBP1qtRDVmePjtU63KPw605vLdQXXaaYsIPKDH1pNgJKkZ+7xTUjwMlc01xIh6H60sdyyn5hRqA1pCG4UjFSpd9mGaf5kM3XANMe1B5Qg0aASgxSkMBzXUQf6hP92uSgTacehrrYf9Uv0qGBJRRRUgFFFFMRzupP5OqtIBkgAgVf0zUpLt2jkjCsORiqV+gl1lYj0bArXtLCK1JZeWPegZW1H/j6h+laKjCj6Vm6kcXKEdhUKalOpZW2kdBSHYqalc41B025qvJ5bJ+8G3PYdaS8mbzmfbhj1PeqRkYnPf1rRJsRbVTtPlKFB/Oq0qSg8g/WhLl0461ZS8RuHFVqhFDB70d60jHDMOCM1XksyOU5pqSCxCkzx9GNWEvQeHGKqsjocMpptDimF7GkTDMvYmoJLLn5TVRSR0NTpdOnXkUuVrYL3ImhkTqppvOyT61fW6jcfN1qBFWSSQdi3FLmfUaRUGKWrMlmycqM1B5UhfAU/TFVdMTuKszxnIY1dtJTJISR2qEW6R8ytz/dBqa1ZSx2jAAqX5DTHy+Vn58HPRR1pm1ym1AEX0HWqLsd5I9ael268daOVhcSWKUH7px7VAVIPINaCXaP14qQrHKOxoUmtwaMqirkllwdpqs8LoeQcVfMibEdKHYdDSGinYVywl2w4PNT/aUdDk4PpVCkqHFFKRctUVkwwp0lmp+7xVVZGjVSDUy6go+8Ofap2KauV5IHj6io6tb57s7UTC+tOWG3t+ZGEr+gPAp87FyorxwSSnCqfr2qfyYIAfMfe/8AdXpSS3byDaAAv91aiWKR+ccVLlcpIuW/Rj7VSMckshwDjNXrXqw9qfwPakBUjswPvnPtVpVVRgCjIPeq8zzKfkXj1oSC5OzKoySB+NR+emetUGd2PzE02tFAnmL0sXnLlW/WqF3BIlu5x0HanLI6HKmpGleZPKPRuKLWBMqaRaskRlYcueBWxjEf4UkcYjjVB0UUrcqRWd9SjLf75p6TPH0P4Ukkbq5ypHNPhtJZsnG1R/E3ArXQklW6DfK4qQ2iyjcPlB7ngU3NtbcgCaT1PQVBNcySn5m49B0pW7BcnRIYT8imZx37VXuLiWQ/Nn6Y4oW5ZRjAqUXEUnDDr60hFNSSau2/3X+lNeBMblNLB91h7Um9S1sUD1P1pRIynihgQeRTD1rZJNGb0LAuvWvP9beN9Zuj/t12xHFef6wSNXuv980uVCcjq9AnKaFbqF6bv/QjV/dLIeAafoUMp0a3LxHd82eP9o1pCFx/yzb8qx5rs0toZgt3b7xrW0Vdl0R7U0xv/wA82/KrGmgpfYII4pMaDV8+av0rNrY1FGdwVQn6CqQilH/LJ/yqlKwmVDkc4pN4FXvKl7RP/wB80vlSDrCfxWn7QXKZ/mE9BSYdu9aHksesTflTTb+kL/lS5rjsUxGB1NMJ54q6bZiP9U/5VSZSjlSMEVLsNChtopyB34UED1IpIztbNaEJkkjysbED0pIbKoRE527m9TQWZvWr2yX/AJ5P+VG2T/njJ+VO4rFPafQ/lRg/3T+VXv3n/PCT8qX95/zwk/KmpIRQ2n+6fyo2n0P5VfxL/wA8ZKMS/wDPGT8qfMgE0ri8WpdZB+2+vFPtNwvY9ykH3FTahuE+dpxjrioWrGYu1vQ/lTTuHapn1OJGwd35U3+1rfvu/wC+arlC5Fvb0o3PjjNXILkXH+qjdvfbVjbLjiFz+FLYRUiumOEeIn0NOnHzZ9qmZbs/dhYD6U0RTA5a3kz9KfMwsVwhYVIqhRwOatAzZ5hcfhT8Tf8APJv++aXMOxUOTSYPpVv99/zyb8qXEv8AzxP/AHzQBSJIOMGk3HHQ1fHnDpC35U7M/wDzwb8qq6QrGbtb0NG1vQ1pfvz/AMsH/Kl/f/8APB/yqucXKZiqc9KvacpW7XPc1Ltm/wCeLflUlusguI96lfm71LlcEiC/T/THPvVfAUdKv3scrXLlUYj1Aqv5Mx/5ZOfwpJ9yrFYufQ0qMd+T0qbyJf8Ani/5U37PcdoWp3QrDJsb+KjCE9atC1l4LRNn6U/yZf8Ank35UnMLFZY8Dinbe5qby5R/yyb8qXZJ/wA8j+VFwIS6r0HNMMpNWwsnaA/980hilbrA3/fNNNCKW4nvSgE9qtLauDkQN+VTYmXjyT/3zVc4WKIhc1IIVHWre6f/AJ4kf8BpMz/88v8Ax2p5mwsVtwXpU8DbyQRwadvmHWL/AMdFWbSKe6LbCF2+oFJjK1lp621yXXPzHpWumnbmLO4AJqJraeB0aRwcnjipHsr1jlJh9KkZS1GW2Rvs0QzICCx7Vbj1SG1slXkuOwFV30q/kzlouT1p6aNcLyXTPuM0CIjPe6m2Ixsjz1NXrTR4YsNMfMb3pi6feqMLOAPYUpsL4/8ALwKBGqu1FwuAPaorqZYoCc8ngYrPFjfD/l4FVpvtKSeU8gY/SgZasYwXaViB9apay+ZlCnORVg6feMvLAD2rOvYhZspkyWJ65oArraueTTtkcYyealS7kIwvT3FOMjnkhfyqrhYrtP2RaZiaU9xVhrkr3X/vkULeSHof0qr2ERrbY5dqXfFGeBn8KsCaVhk4/KozOVPVP++aVwITLLJ91SPoKktkdWff1Ipftsn8IX8qkhnldjvx09KTY7FeIyR8ucLSmUFsKMf7Rpwn2dh+Ipy3G/8A55/980ANaAyDKtk1CRNEetXN8gGV2Y/3RTGumHVU/wC+aaAhW77OuacRDNz0NKsyueRH/wB808x7x91PqBihiK7WrdVIqvNM9rC7EngdKt8RN34qK5voo7d2lVdg9Vp3GM0yUy24kbqTXaQsphU5HSuOs5o7mFWgChfpWythfsqlZFCkdMVDBm3keooyPUVi/wBnah/z1T8qP7O1H/nutIRt5HrRkeorE/s3Uf8AnuKY+napj5ZV/OgBl9KsWtrI33VwTirU2toy4gUlj61Q/sTUZG3SSISevNSpod2nIkUUwANNLMrTfxVo22mpE29m3Z5A9Kz2tp7eVVlk3Fhx7VZFhe4yJuOwpDKeovGLx42A9jVQ2scgypx9KtTx3EcpDR7z64zTQ9wP+WJH/Aad7CsZ72kic9ahKMOCprXElx/zyP8A3zTt0x/5Yf8AjtUphYxgzKcjIqdLt1PIyK0sy/8APv8A+OUxjN/z7D/vihyTArieKQcj86GtY35Hepsz/wDPuP8AvilDXYH+p4/3KSdgtcz3tXToM1CVK9RWtvu/+eP/AI5SZuj1hH/fFVzsOUyMkHpUkPmfNsGTmtFvteMC3X/vioVS93EmAAH+6tJyuNCrIY1xMcn0WkEnmHAOxfQd6lUXKj/j2H/fulJus8W+P+2dSMha2VhwaS3QxyMOvFT+bdjjyP8AxymxM5uTvXDY6YouKxmS5ViMGohk9j+VbZ+0E/6oH/gFJ/pI6Qr/AN8Vopi5THw3ofypwkdTxmtXN1/zxX/v2KQm6/54qf8AtnQ5JhYqR3TfxCphOknt9akzdf8APuv/AH7FGbn/AJ91/wC/dRp0GQPbI/I4qtJaOp+XBrRD3f8AzxH/AHxSGW6B5hH/AHxTU2hWMhkdD8wphbFbJkuiMGBT/wAAqBzedFtFI/3KHNgkUBBLOFWNfqT0qUW9vajdM3mOP4V6VZjF4ODbED021MFuMf8AHsn4x0r3GZcuoySHy0UgdlWnQwTSfeXaPerEmpQwOVbylYf7FH9txY/1kf8A3zRysdyRLZE7ZNSFRjFR2+pNduVgCuR1wlWN92f+WI/75qXoK5Wg4Zu5AqpLPIWI6AVctSfMY459KnxcH/lgp/4BVJ2BmOrupzk1Ol2Rwy5rQK3H/PBP++Kb/pH/AD7qf+AVXMgKm6CXtg/So3te6N+Bq+RMRj7Lj6JVd7eY9Ynx7CjmFYotGydRSRHEq896tmzlI4ik/EU3+zpgN/ltx7UOQJFnjtSfjio4d4JDKAB6VL24rPqURvPFHwR5je/QUx83CgtJ9AOgqbdcA4+zAj12U4NcY4tgP+AVVxGdJbyLz1AqHBHUVseZc/8APAf98UpM7dbdf++KpTsKxi/hTa2ts3/Psv8A3xSHzh/y7J/37o5xWMlWbGM1btSPmzU0vm+UxMAHHJC1DaElyKltMpCN5Uv1qF7U/wAFaBE2eLcH/gFKDc/88cf8BoUgaMVoXT7wrzzWT/xOLrj+OvXG+0ngwrj/AHa841vzRrV2Psy/6w/w1opkcp3/AIcud2g2rTqqSHdlfT5jWqbmLPUCvO9Dm1W60i3miTCNuxuPP3iK09ut94x+dZdTXodj9ojx1FVYWV9UJXH3e1cx5et/3V/76rX0IXC3RFyMPikxG80iocMQKBNF6isPXTfiVBaJlT1yayN2t9PJX/vqhIZ2nnRHuKXzovUVxQbW/wDngv8A31S7tb/54D/vqiwjtfPj9RS+fF6iuJ363/zwH/fVO83W/wDngP8AvqnYDtPOi9RXLahj7bIV6E1U83W8f6gf99Uu6Q8zLh+/NSxocDxXQ6HIq2xDHvXPClL36/8AHtHuX60IDtfNj9qPNj9q4jz9XH/LA/nR9p1Yf8u5/OnZgdx5qe1L5qe1cP8Aa9W/59j+dH2vVv8An2P50WYjufNT2o81PauI+26r/wA+x/OlF7quRm2IGfWjUDq5WVr+ELiqGtSyed5asQhHSm2BdruMucmn6sAbkcdqcRMxfIGemav6fpCTt5k3CDoPWqN9JJBGPLidyepXtUMOp6j5ShLaQr2zVXBHcQLbQIEjVRj0qXzE9RXDf2pqg/5dJKiGrX/mlBBLu7ip1Gd/5kfqKPNi9RXDDVtS/wCfSX8qbJq2oBctbSgD2pWYHeeantQJE9q4ZNYv9uRaSn8KcdY1D/n0lH4UWYHcebH6il8yOuBi1m9DMBbzsR1GOlS/23ff8+k3/fNCQHdebGPSl8xPauAl1m8BUtbTDPQYPNTDWL8D/j0m/KiwHd+bH7UCSM9xXBtrd4FO61mH/AaSLX7vbxbztz6UWA73zI+nFVLoq08OMcH+tcj/AG5e9rSb/vmtLS7ie5u1aYMuOxosB04eMdcflTvMj9qwbuZ0umCsRiq0lw+wlpCoHfNCA6ffED2oM0K9WUVy32hggJdmU9Mc1Ql1Q5IFvO4H+yafKI7Vr21XrItRNqlkD97P0FcImqHecWs5PoRUn9rS5/48pf8Avk0WA7JtZtRwsbt9BTf7YVv9XaufrXHvrLrtJs515/u1YXxDcY/49Zf++aLAdR/aNy33LP8AM0v2m/ccQxr9a5U+I7jHNvOP+AmmxeJJ9pKwztz3U0DOtH29+ssKD/do+zXR5a8UfRa5f/hI7g/8u8w/4Caik8Qy+Yu6KcegC9aQHX/YWP3r2T8BTl0+L+K4lP8AwKuT/wCEiuP+eE3/AHyaT/hIZ/8AnhN/3yaYHXjTbPuzt/wOrVrBbwZ8kdevNcVH4guWYAQSj3IrpdDuJJ3cuc8UCL2o/diI/vVbX7o+lU9R+5H/AL1XF+6PpUiuRvcwRyCN5VDnoualrnL7S55NQaVYw248N6VvwoY4EVjyBRcCSiiimAyRxHGz+grKtl+0XnmMOAc1Y1OXCLGO/WpNPh8uHcRy1AE7TIWKA8isDxDjMRPZhWyzR+eVCndmsbxCMiP6igaKRmCrhRz2pmJJevApp4AOQacrSt0/lVgPEKLyzZo85E4VeaTY2PmcD8KjOVPDA/hRuIkxLL2wKUQqn3yc+lR+ZN/ewPpSM7d2yfpTAl84KSEj/GpbZiS+7riqgnkXoR+VT2srNI2cfdJpNAN83tIlO8pH+6cVGbqT/Z/KlW4f1A/CnZoLjts0fTJFAnDfK6UhuJx0II+lAndvvED8KQDvs6PyhxSbJ4vu81IvmEfI6/lTGmuUPOMfSjUYLcdpEqjrccR0mZwMHHFXVndjyyj6iqet7jpExLA8dhQwE0AY05Oa6i01mFn8gnBUVzGhf8g9RVyLyhdNtjIY96kZ1qTxuMhhUma5xXZTkE1Ziv5VIycigRt0VSiv43OG4NW1dXHysD+NIQrMFBZjgDuaZFLHMCY3VsdcGob6N5bVlTv2rP0izlt7h5GBVSMbaVwJtQH+lxVpr90fSs3UP+PqKtFfuj6UwELx7sEqDR8h6EGuV1jUlg1R4yHHoQKijvDIVKTOpz0PegDrxtz2pcr7VzS3c6/xk0NezEctQB0uVxnikyp9K5hb6eNPlcn3NVpvEE8LYZHP0FFho7HK47UfL7Vwn/CTfvcnzM/3StS/8JSewk/KkM7XKe1Hye1cLL4pO058xffbTl8UsEAxIeP7tAHc5X2pPl9q4j/hKmA5WQf8BqOPxScsw8w/8B6UAd58vtSbk9RXEf8ACVMR0k/75NRS+KASu4yr/wABNAHefJnoPyrBusf2wcdKxR4pOOFk/I1YtL37YzXByOO4piOwXZtGMdKMp7Vwq+KMcDzDj/Zpf+EpOfuyf98mkM7nKe1GU9q4I+Kl8zH7zPptqT/hKm67ZPyoEdzlO5FJ8nbFcI/isgcq/wD3zQvio4yFf/vmmB3WU9RRlPauG/4Slj2k/wC+aZ/wlfP/AC0/75NIDvdye1GY/auE/wCEr/2JP++TUb+LAD0kH/ATQB326L/ZrN1bUo7WFo49pkYflXO2+vzXIyisPciopGMrFnJJPUmqSBlCSLzXLuMseTTUsjLIERcmra7NjNnOKhi1uC0c7Y3LA9dpq72EjsdE0uHTrXJAMjck1qM0e08Dp6V56/itmlU/vOP4QvWpB4rZjgJJ+Kms2UaVsN2ouc8bq6pTEFH3a4y1myGm56bqqHxSUYqVkyPRTSA7/dH7UmY++2uC/wCEu/2ZP++DR/wl3+xJ/wB8GmB3mYvQUpaP2rgf+EtP9yT/AL5NIfFmR9yT/vmkB3u6P0FQ3bR/ZHwBnFcP/wAJZj+CT/vmnR+JTdSCHZJhv9mgZdzmlU4dfrSdqQnHPpzTA6qFohAmducc8U/fF6riuCk8UNFIY/LkO3jhafF4mlmOFjf8RSEdzmD/AGfyp37r0WuPXVrjrgj8aX+1J/ana4jrsx9wKQtF6rXHPqNyw+/jHpVCfWPLB3zOfoKfKB2moTW32KUbk3beK5ewIW4DHoOtZS6ws7BAJTn1BrQtmCh2IJAGaGrDOpbVtPRR8wJHYCoTrtkD8sTN9FrjDr1sjsBbtkHrtNOHieNfuwt/3yaLIDrW1tGPyWjt+Feba3qsza3dn7Cf9Ye1b3/CV8cRMP8AgJrgNY8TO2r3TYcZc9jVITOz8Nv/AMSG1/4F/wChGtbzDjrXP+HpNug22T/e/wDQjWj9qywA9abQkXvMPrVnTSTffhWbceYu3acZq7o+77bhjn5ahjLeoyFXUCqHmH1q1qx2yrWfnvVpaBcn8w+tHmH1qsZAO9QmZieKTAv+YfWjzD61SBkbvUyqR1NCVwLHmH1qlLy/Wp+1V2+8amaGhB0q3BIVXrVQdKkQtt+WpiNl7z29aPPPrVUbu9PrVJkXLHnt60eefWqxbFIu9zwMD1oC5a84+tHnGogu37x/KkbHaizC5oacd16lSascXf0pmmptuYW9adqvN8B7CpW4yl5p6URzN/FgfSmSDDYqOrsSW/NJ6mo2lYSKVC4zyTUWTjrS4Bxn1pco7ljzeOopGlO0jg1FPsSTAPGKhyW4FKwXLUczbccD6VJ5h9aqBfenFfeq5QuSCVhKeFA9fWpfNPtVXbR3xSasBYeVguQAT71J5px2qsU4oVVxjP4VI7lnzSR2qOKY/MNqjntUTI+Mo1VGMqP0ouM1DLmrFgxN0mPWsmKQjmStLTH3Xa49aVwJb9/9McelVWfK4IB+tWdRH+mMapEAjFVFCY+OU7BwB7U/zM+lVtmOlSRqeBVNCHmYiQDaMetSeZ9KhaHLZ9KdtA4zUDFeQ44UNTlkyozjNRkDpTfpVJCJ9w9BSJJyRsUD2qIfWnBTn0pDJd/sKRn/ANlT9RTcAd6YRmizC5LuBHQUm4e1MVSakEfPNADN2RWlo95HaSv5hwCKz2CA8UznPFFhHS3N9FchFQHIap/7UhjO1g2RWDZbvNXd0pbgn7Q/1rNjN3+1rf0aj+1rf0audzSg0h2Oh/ta39Go/taDsDXPZpc0wsaM90s1zvP3fStBdTt9gGSMDpWBuFG8UAbv262dxtzuJ9Ky9auE8zyXjJORhu1V1fHIPNO1CRbuOFR98uAaAZVHlouetHnMR8i/jXQW+i26IrSfNkdKr6xarEiGIKq9OKtEmKeuWajcDwq5puAD8xpN/ZRirEOPufwpmaTJoqrCuFWLP/Wt/umq9WbP77f7tKQFY0UHrRVCFDEd6dvz1plFDsBMOOVanrNIDgjcDUC8HmnmQ5AHFZsomdYyOVO49hVPVopP7LfdgRnHFdhZ28QtYyY1LEZJxWf4phU+HbhUQA44IFQykc7opCo6hvkBGK6T7RYFBlMNjrXOaTGYrFQRyeau5FK4y87QfwMai8xarZ4o3GkBZ8wVIl20fKsRVLcfWjcaQGxDqxAxJzVoatbdya53dRuoA17m8juLmNk6KOatjVbYAAkjFYUB+c/Sq0rkOeO9UkJlq9mSe7eQYIPSqu5fMA2D60J5bdTTVj3SMVPSqsIm3imyS7Uz1qJlkU9KZu3dadgJw42jAx7U4MMdqYgjYY3YpzW5/gbNICMFDI2YwMfxY60/Kf3R+VReWIskkk+gqLc2adh3JpNnA2KQetL8uOFH5VGuwkbs5qysKN0ehoCJiu08CooiuCREq5PpU0lu2Dg5FVwCox6UWAlJGPuj8qjdlLqvlKw9cdKTJpyCMnLEinyhcXcB/CPyqe2OWbA7Hik8qEj79SWwUSEIc8VIFMbV4CKB9KCR/dFMkKQg5kDvnoKrea8hwoJ+lLQCwpUuSY1BHQ1JvH90flTIbOXguQoqZ44UHL5NNICvJIOnlq1PDD+4oqrcuEZdgPNWoYi8Rf2p2ACwAJ2jpUcZVl3GNVOaaRng0gGOKfKK5PuHoKjLKZMGJTjvim0+OCR/mHT1NDiFx2fQAU13IXgA5pXVVGA+5vaoSDnrQlcLkqHAxtA+lOYrjO0flUGD60hzinysLj0ZWkJaNeOhqTcvoPyqtyAaBUuIXNK16t/u1ULKGPyr19Ks2vCt9Ko5G87s9aEhtku8f3R+VIXX+6PypPIzyjg0LbyOf7o7saLCF3r/AHRSb1/ur+VNkWNBhXLN69qj780+ULkpZf7q/lTomG8cD8qSOON+NxBqQWpV9wbik0NMs9qRulL2pG+7UIZScgMeB+VMyM9qa+d5+tKgQ/eOKuxNx24Um4VJ5AZflaozC6n5sAUAOD49KQlT/Cv5VE2B0pvNOwXJTt7KPyqe2/i+lU8nNWrX+LPpUS3KRGSufur+VIdv91fypk4CkbT1NNKuBmmhEmF9B+Ved6yV/ti64H3z2rvGZsV57rLf8Ti6/wB+tOUk6nQ7Y/2RAN2V+b/0I1rRRIjDAqh4eR/7Dttwwfm/9CNagUg0JIZJL1xVjSP+P7/gNUJpTkACrui7vtuT/dqJNWBE2tECVfpWVuduAK19VXMynHaqG0+lNbDZAIifvVKiKvSnFTTSSOik1WiJu2PpCQOpxUX75uike9KLdj945pc3YdhfNz0GahbrzVpYto4AqtLw9RMqIg6VYh+5VcdKsQQyzYSMVMWNjmcCkUM/fArRj0eZQSdrMe5NL/ZFz6p+da3IsUQqL0GT70pYn2+lXf7IufVfzo/si59V/OmmhalDNFaP9j3GPvL+dH9jXH95fzpuSFYfp5/ewfjRqn/IRH0p9tbvbXUKPjj0qXULSSW485cbQKzT1L6GRN9803ipLhdnzFl+meaWCyurofu02r/ebir5ibEJZV7035pGAHGa0E0GcDkoT9alXRrkEEMn50nILGe9usTYJyfWkxitSTSLh2zuX86Z/Y1z6rT5kBQoq/8A2Pc+q0f2Rc+q/nRzILMoUqjnNXho9wT95PzqCW3a3bYxBPtUydxpETdKbSsTnA5NWYtLu50DABVP940JpILalUOV70hJf2FaA0W59U/OnHSLlEJYoB65o0YGaYFK8NVzSEZbtQR3rPmmaNiqoWA71f0e4eW5QNGVwep70pIYalc+VqUgYZUVGkkM4+R9rehrQ1HRJL24Z0cLmqf/AAi10p4mX86lMBPKZetAI3CrMei6ggwZUYe5p82nSQKHbHXnBqr3CxSdjkimjJqWSIBvvZJ7CrEemXUyBgAg9zyafMkKxTxjrSVof2Ndeq/nS/2LdH+5+dF7gZ+QOgpTlulaA0a6HUL+dP8A7Kue2z86LoDOWM96fhF6mrh0e7boU/Ok/sS67lT+NFwKZk7CmncTmtJdHuB12/nUdxYywKC7Lj60roZUCDqTQWVRxzTZFYPtVt2fSrUelXUihsKv1NK4gsnLXAxST5+0Pn1NWYbGS2lUtt596ZcWErTMxkQAnjLUhlQt70oJPSphZhRzJH+dNaNh0kj/AAzRYBhyKryXSJII8MWPoKsLbySOBvBGecA10dppttCgJUOxHU0NBcwoLOeflIzinzWM9uV3rjccCujnBW2cQ4D44xWAxu8wi6J+V+5qQHf2TedlH50R6Vcx3EcsgUIrAkk1o3GrpH8kKeZJ6CoVs7y/Ie7lMcf9xTQgZNPq0aHyoF82QDGFrOvIbyaFprhtig8LW3FbW1qoESLn171W1X5rFwOpprcRyvfAopwRumKXy2Pat09CWMop/lP6Unlv6UANqzZ/6xv92ofKf0qxaqwlbj+GlLYCrQATxUqx5PNOKPjaqcUXCxCRjqfwppqb7PL/AHDSfZ5f7hoAipHlC3UUXdhU32eX+6apTo6azb5U8IaUtho721/49Yv90VHqNubqyeFRktUlsw+yxcj7o71LuX+8PzrIZzSaNdqoG0DHvUZsZluRb4HmEZxXVZHrWLcSrHr6uWAUJ1pDKv8AY93/AHRVa4s5rZsSDFXItQumvZDGxlBOAoHFXk06a5YSXknvtFMDniDnApWV1HIP5Vv6hphlRBbbUweTVRNLusYZkb8adh3MkN2p4Vz0rRfRJpOu0UwaHeL92RMfWnYVyvbgq7EjtUZmjc4cVcFrPBJslAJIxxTn0WVuQAM89aFYDPNurfcYVEN8TNjqKv8A9i3inKso/Goo7eZLmRJMEgc5p3EQrdDo608JDMPl4qQW/nORHEXP+z0FTf2PeMMDYg9AaVxlHyQpyvz+wpjyShsY2j0rSj0a8Q8On51N/ZVwR8wQ0XAyo7lVGGUVIRDKOBg1bfQpiSQVGfeov7Cuh0K/nVXQim9sRyvNQkOh5BFayaRfD+JT7ZqX+yrkjDKv50cwGSlyRw3NLAUfduxyeM1ffQ52+6FHtmqAs5DvTKqyHBzSY0LNAgXduAFUgXlYrEN2Op7Veg02SdiCDL7DoKtPol8w2rsRP7qmjmCxlbEiGZH3H+6KuWbbgSq444FPuNKksYGmmCnA6ZqOykMiM4TbxwKW4FQWahi0z4BPQVL5scQ2xIB70tla3GolykZAU9Wq3/YF4em386pJCM55nfqaYPetT+wLvvs/Ok/sC7z1T86u6EY0kTTOiqOhrVCCO32+1S/2bNZENKV59DTZBuQgVm3qMzOlOWJn6DHvV620+SU5RPMYH1wKnk0S/l7oq/3QarmEZn7qLqd7jt2pkkzvwThfQVp/8I7eeqfnS/8ACO3Xqv507oDJjxupG+8a1x4fuweqfnSHw/dk9U/OjmQjIorVPh677FPzo/4R+89U/OnzILGQ33aQdq059Du4oWdtu1Rk81WisXkt/N3KoHYmk2ikie27/SqYgkdzgYGepq7aA7yo5PQVNNo97JyzoFPQZqExtFAPDB9394/r2pn2lyfn+YelWzo069ZIx/wKozprjjzoz+NXoSQYhk/2DTHgK8qdw9qsHTn/AOeqfkaVbKZT8j/kDRcRS5HXipYZH8wDOR6VcFhcN96Lf7imNYtDIC6sp9DSb0GtyTtQeRQelJ2rJbllOSBtxIGaYsLHlvlHvVkmVchULe9KqFx86kVomTYg3pF/q+T6mmrOc/Nz9amayPVagNtMP4apWYEoaKTjABpj25H3TmmfZpuuw05Y7hDwpo2EQ7WU8irNv0b6UjeZt+eMj3xT7dchvpUN6lLYzpCd/wCNWEn4waZcwNGwOOM1LHaSScn5R709BClUlBA6mvOdatCNZuhvA+c16WU8kbYkY+5FeZ62ZzrV2Sp/1hpiOp0KSY6Rbgr/AHuf+BGtMkkYzWZ4fctolsSOTu/9CNabYUZYgCiyHcQKv1NaOj/8fn4VlNcL0iUn8K0tE3G8yw5IqJIpFrV5BGwz6Vkfa3bhE/GtfWFUuuRniswADoKaVxMVZJCPnAFO3Gm55pccc8VVkiRd59aXzDimYywC090MblTyRRa4aieY5PTio/szyvkVIKuRfcpSiNMoyW3lR7iaIboWybmYr7irV2P3BqrDgpyM/WoSKJP7bi/5+JPyNJ/baDpO5+oNGV/uJ/3zSZX/AJ5p/wB807CuH9t5PE7/AJGnprDN0nP40zj/AJ5r/wB8ijco/gX/AL5p8orlpb6Q9ZHP41IL0/8APaSqJbPYD6Ck3UWHc1bKbzr1PmZsetO1e9WC4MbXJj46AZqvpHN6lSa3t+28op47ipsMz1vbJR80+4+pWp/7ZhAwt2wHtVXcv9xP++RSbk/55p/3yKdhFwa1D/z9vTv7Zh/5+2qgWX/nmn/fIpNyf880/wC+RRYDQ/tmH/n8b86X+2Yf+fw/nWcCv/PNP++RS7k/55r/AN8ihoDQ/tiD/n8b86Y2pWzHJvZPzqluTtGv/fIpA6d40/75pWAvfb7Uj/j8kP40qSI4yjlx6mqeYz/yyT/vmp4egwAB7ChoZY8+KA5kk2Z70/8AteDp9rf8KqT4K4ZQfqKrjy/+eMf/AHzRZgaq6pCRxePUUupTH5Vcsvuazj5eeI1H4U1CAaqwi0b0ow3lQO9amn3EE9ynkyBjkZrDfayEFAfqK0tDAF2mEC89hSAv6hqMUN20ZuWTHaq/9qwf8/rZ+oqlrSRtqkhaME+pFVNsWP8AUx/980rAbH9rQ9PtjUj6jBImHvCR6Vi7It2fIT8qeREV4gT8qdguasd7ZD5vtGCPYVKdWhz/AMfjfnWGgix/qU/75pSsR/5ZJ+VKwzd/tWHHF8350f2rFn/j+f8AOsNUh/54p/3zQY4Cf9Sn5UWEb39pxkcXzn2BFIt+rf8AL1JWGEjHKoB9BQG5wBTsBtPqGOBcyk1C2pyD/l5f8TWdk46UzbG/3ogx9SKBGh/a0vT7QfxalNz52DLeqR6ZrM8qEc+Qv5VII7fH+oT8qBmrHcWqNxdKG9eKmN/br/y+k/iKwjHB5mfs6flTvLt/+fdfyosB0FtdxXEqhZ/MwehqO6ntFmcPOuQemBVHRVRbkhEAGfSq+pQwteTExAnd6UgNJbiy6i5UfgKkF/bjAW7/ACxWAsEGP9Sv5UNDBxiFadmB0EmpAbVhumZmOK2006dkVjeuCRnGK4mBQJo9ox8wr0WJ1MKfMPujvSYig+nSRoXe9kAHJOKrpYC+GUvmcKcfdrYkCSxMjMMMMcGq9nbQ2aFUcHJySTUjKqaM0bZS5IPrtp/9mT4/4/X/ACrQ8xM/fX86Xev94fnQBmHTZgM/a2/75qrdQSR2zv57NjsRW4WGDhh+dZl+wFqyyHIY4yKAOeFy+OCPypftEvqPyrdi0e3Sz3csxXIJrn2G1yPQ1rG1iWSefIfT8qTz39vypm7jim1VguSm4kxwR+VS20kjO2W/h9Kq1ZtPvt/u0mh3GfaH9vyo+0P/ALP5VDRT5RXJfPf/AGfyo85z1Cn8KipQQDQwQ/zX9F/Kq0l066jFBtT5lzu21s6PbRXkjl+idqzvE6LbeINPEKBQYyDj61m2Uh6Xs28oJGAXitCCRJAN906nvxUi6SksYdZFBYZ61UmspID1BAPUGkBrDTjIPkvnNMfQt53PdMTjqRWTHcSQn5XI/GtGDWHA2yDcKQWEgsYfPMMN4yyDrgVcGmTjpeyflTLI2RufOViHPYmtLzYz0dfzpAYWoedpqoTeE7vWqP8Aas3/AD859s1d8SrDKIdwV8ZrnWhtlA/djPtVIRuJfysObh/yp/2x84+1P9dtZCyIq4UYFIZfmzk0xmz5jSSZ84vgdSKiGpKSQb0rj6VWs5A2/v8ALWWYbcyuWiGSeeKVgN46ooHGofoKg8+3kYu96CzdRtFYrw2hBHkCkSC1UYEIx7iiwHQC+hiwI7vH0Ap51FP+f8/pXNtDa7uIh+VBht/+eS/lRYZ0f9opn/j/AD+lIdRXH/IRP04rnBDbbyfKGPpR5Vr/AM8V/KgDohqS9tQP5ilOpD/n/b9K5tYLf/nkv5UjRWwP+rH5UJCOlGoL/wBBI/iKT+0lBx/aJ+uBXN+TB/zzH5UwxQFv9WPyp2A6j+0B21LP1Aqss1uzszXoyTz8o5rDMUABxGv5UxIoSCTEOvpSaGdN9tiiX93fhcdlUUDUd6FhfsSO2K5h47cD/Vj8KkiCIPkXbTSEadxqlyflLCRc/wAQFWLJ9/LYHHpjFYryDgeprV0/HlsccYosBaS+jiJSO92DPOFFSHUlC/8AIQz+ArmGitjM7eUOvpQYoMY8pfyoswudE96kww2pMvsKjLQf9BR/zrAWKDH+qH5Uvkwf88l/KizA3cBzmO8aUDqDT846kD3NZ+mRxo77FAyO1XZ8eQ+fSkxk6X6Rjat8qj0AFO/tJP8AoI/pXM+RD3jB+tL9ng/55r+VFmI6X+0U/wCgj+lH28HpqBP4VzX2eD/nmKcFVRhRgU7AdCdQI/5f2/BajbVWUEreOf8AgNYmaUgEYxRYRovrlyOFuD+NIutXrHH2oD6mslreFusSn8KT7Lb/APPJfyo5Rm1/aVxICsmoR7T1BpoktxHg3qH2AFZH2S2x/ql/KgW1sOREv5UWGbNsQHLKwwOcipnvYH+/eqSOxAqpaACJgBhQvSspra3LEmJSSfSlYDbM1metzH/3yKctzaJ0uk/75FYH2S2/54r+VKLS2/55L+VOwjoRqEIPF6o+gFH9qRj/AJiFc/8AZLXH+pX8qT7JaZ/1K/lRYDoP7SRumpMPxqGS4SVwBdGY+9Y62tqP+WK/lVi3jijlBRAv0FFgL+aQsBzQ1ROflNJIYvmk52MD7VGbqRDhkH5VXJINPErNwea0sSS/bX/urSi+YnBVfyqMRKw5O33qTakSfIu8/wB6iyAnWRyMnaB7imvO6coFb8KovI7H5jz6U1ZGHek4jLD3kkgZSoHrgU63YqGI6gVTR90jZq3b/MHHtU9RkMt5LIeQuAeOKkjvH6Fh+VQPGQaakTuflH41pZE3LpuH7bT+Fec61LMdZuj5Y/1h7V6AAkPJbc1eda1dN/bN1gY+c1NgbOl8PwXL6BbGIDad3OefvGtEadMTulJP41D4ZdU0S2UHKjdjP+8a2hOBSadwWxSWAIMBQPer2lLtvh9KRpUb7wBp+nYN/kcDFKT0GiTVsl1xWZjb941o6tu81QrYBrPWMA5Y7jTV7DYnzMcIo+tOEDdTzQY8n72KXyv+mh/OmSOjiIkX61JOhaZiPWohGQwKy809lJOWlOaaAZ5ZqYTJHHgtUYjyeZKabPe2Q3FKTBDJ7oSKVApkRwlLc2vkxbgaW3QGMEtipW5RMlu8gznHGaBCfanoGAO2QkYpuxc/6wn8KokPIbHal8g+o/Ok2qDw1OG0nGaoQnkHHajYNvSnEqO5qEt83BoHc1LFVS5i2io9ZRmvQAO1N07P2yPJzU+q7TdZLYO2s1uMzBa46kfnT/s4/wBn86AiHrKR+FPCxD/lr+lWSM+zf7v504WqhhkL+dLtj/56/pSjyx/y1P5UMY97dNwwo6UhsJeoi49cUksqRHc8hH/ATSvqwnjCfakRB6daTAh8k7tgTLegFSDT52GTAR+FW7XWbS1X5WhJ7sepq/H4itn5GD9Km7GYw06Yf8sjSPE0LbWBBrb/ALdtgc7c/hWXfXa3k3mKMCk3oNESwtPwi5Ipw02fr5Rqewv4LFy0xAB9a0P+Em08f8tF/OhMTMkWLtlRH8w60w2TRjMi7frVpvEFuJneGZBu7ntSQ6rpofzJ7gSv79BT5hFRbOaQZSJip9qv2Nq1tcRMykEmrY8T6aowHQenFKuqwajPEIWBCnJxSuyipqNlLLdu4jyD0NVRpsuOYjW1ca/ZWc7QyuNwqFvFdgOmD+NNNisZX9mSjrEaQWnlHEiYNaX/AAl9rniMH/gQqtPqCai/nRqAvTijmYWIRZM3zrH8vrjimtbqzkJHuI64FSDUIFIhnuCiD+ACp7rUraS38m0cQqerbeTQmDMxhCrEM6qR1GamhtBOMxLvHqKqiCxWVTNdjbnJGOtdBbeIdJtIhHEUAHtTYIoiykQ/8e5P/Aaf9iLjmBlP+7Wj/wAJXp5/jX8qX/hKdO/vr+VTqBmjTpB0iJ+tNWyaTO2IHHXitQ+KNOH8a/lWeviC3TzBFMi7z94ijUCB7Py8eYoHtSizlcZjtzj1IqzbatpcJ8ySUSyf3m7VeHinTh/Gv5U7iMgaXN3iNP8A7Mn/AOeVay+KNPPRgfwoPiaz6Y/SlzMdila2rW7qWj25NMuNOneeRxESCavNq0F+6pGOhzTbjxLBBK0W5AynBzRcLGU9hNGRuiIyeOKe2myqMtFgDuadceJI55EO+MbTkcVHPq8d3/rrsBf7qcVVwIxalmwkZZv9mrLW94i5ZXAHvSw6pZRIFF5IoH90j/Cpv7Z03HzzyP8A7zVLApCWUHG9vzo8x/77fnV0avomeY1z75qVdW0zIFvCu4nj5SaQGdul9XpPMkzgu3511H22PaB9jkP/AGzqtLd2m/abVxKR8o2UgMBXk6hn/Opo7plQxvlsmtBHuRHsWBlXP3vLOamthBb8m2ldz/EUNIB6yX1xAEVPKjVcEnvXPyDEr7myQa6ZtSUKQYJRnj7hrn5PIMjHeRk91NaQEyADPcUu33H51JiD+/8A+OmjFv8A3z/3wa0uIj2/7Q/OrFouHbkHj1qErAT/AK3/AMcNT2xiEjBGJ4/u4qWwIfJOfvL+dN2gNgsM05vLbgSbf+A0gSEHmYn/AICad2Ahjz/Go/GkaIBT86/gak/c/wB7/wAdoxb92/8AHaGwNDwmcxz5Oeah8R27PrFrMB9yMj9aj0e+ttMWQMxYSNxgVtrq0Uy5FtI+P9msnuUc4XlHdhiml3PV2x9a6G4vBJAyLZSKT0Oyst5JTDHHLAY4xwW2cmkwKOSeKMN6Gugt5LeBBtspWOPvFKJ9btbZws0RQn+8tFh3OfAfsG/KpYo7iVtqb63F16wcfKufotPGuWS/wkf8BosBhvYXRxuRmpp0yfr5RrcbxHp68MSPqKb/AMJLpnUuPyq0xGGlhMZDGIzuHJFK9hLGMumPqauf8JDZreSzRyINwAGRQmq6azb7q48z/ZxxRcLENnEVLcdRTG06diSIa0H1Czu5FNrgInWpx4m05RgyYI46UXAxhpc//PKnf2ZKeDB+Na//AAlGmf8APX9KP+Eo0z/nr+lFxWMg6RIvIiyaZJZSRx7nhAAPU1tf8JPpn98flVa/8Q6dPbFFkxz2FK4yodM3Rh/JwMZ4FUxZZcqFPXpitI69bSoEa5CKBjgc1Zg17SLdcKwJ9T1oAyBp8ucLbn64qrPZrA+JXRT6E100niOxeM+W/wAxHHFczcxwXErSyXYJY55U8VSELDbrM22JldvQGrI0qYH/AFNWtI1DSNMiP70NIerbauSeLbFT8i7vxAobAx5tKnMZxFj3pyWQMCxqgLAc8VoSeKbe4UwrEQX4ByDUIuPIXzN233IpXCxRk01k5aMAe9SR6exUFYS/v2q7Bq+lbvMuJ/Nf3HAq6PE+ljgOMemKLjsYraTO5BEAAHpUltC0TGMrg4xitf8A4SnSx/GPyqiLyC6vTcRNmPucUrsCi2kTlmKxd6aNJuM/6qugHiKxHBJyOPu0f8JHYA9T/wB81XMSc1Lp00ToGjPzHAqU6VOBkx4FaGo6/YzywlZANjZPFQXGvRXB/wCPqNU9NpouVYht4DASGUA1K6GRCgGSe1KL6K7XZE8TBeuxcGlEojYOzbQO9SBUOlXHXyzSf2XPjmM1oHV9O6vqEzH3I/wpRrGi/wAT7/djT5rCsZh06YD/AFZ/KopLV0HKdK2f7e0RTgIv50r+I9I8lgqJkinzBYwYotyg8VI1tgZyuPrUq3MFwgERAAPUCk/dngvkU1qAi26leNp+ppn2Tnkp/wB9VKfK2483j2FCiED/AFv6VQiL7IexT/vqj7G2M5T/AL6qbEB6yfoaaVtx/wAtOfTBpMCS2TAYe1UmgPnbcrzz1q9b4Jbng1CVt1nDmQn2xUotkYsZCMgqfxpVtlB+crn0zVl54iu1JQg9lqEJB3mz+BqiRskIIwoQfjUf2VvVf++qn8qD/nt+lIYrftN+hoAi+zMB95B/wKlSBlcHcn4NUwt4tufNOPpTJEt0gdlmJcDIGKQIlYjOM0wqWGKy9LlkkuZN7EjtWvkCpRRVNrIT2x61IsAA4YH8ae7Rvw0uPwpnlRdBL+lWSMa3kY/fXH1pBbyqeHX86l8hAMl+KAkCch9x96AEMTFf3gX65pj2o25WRPpmnylZB/rABURWNR9/NAFdYirk5FW7YZDD2qD5exNTW/8AF2qHuV0JI4tgIkYE+lOPzLtBVe3WozbL95pcZ9RT1SCNciXLe4q7ElWa1KLncD+Neaa0D/bF1/vmvUJEVzkzivN9agjGs3X73+M9qqLIZ0nho/8AEpgOem7/ANCNbhPpWJ4YTOjwHd/e4/4Ea3AvvSRQg96vaaALwc/w1T28dat6b/x+j/dqJbFIXVf9atURyav6oMyKaoYwetVHYTYN1pM07AY5zil2e4piEXJcdsmnzArMy5zg0KmHU5HWpZ4i0zNuHJoAr1biPyCoPKI6sPzpyzogwTSk0hoS+5g/GqsX3KmuZ0kiKg1HAuU61EdxstWyO27BwMVFmp7UhWcZ6qaj2AjORWisTcZSjrTtn+0KNmP4hV6CGk036U/ZuPJAFOEQx94VLGWtOUi7iY96fq//AB9j6Utl/wAfEI96dqqbrrOccVEdynsZop6gE4pwiH94UuwKclqsgjIwcUmcMKlKBjndQIxkHdSYCTkyEEjHHeodn+yv/fIq26hsc9Ki2f7QosMh2f7Cf98ilCnoAB9BUuwf3hRjH8VFguRGM55p6jAqQID1aoJTtOAaiSKTHugYdAai8sZ4Vf8AvkVPD8y8mpPLHqKaQmymYs/wr/3yKBB6Iv8A3zVzy/8AaFAUL3p8qFcpmD/YX/vmtHRo9l0vAAJ9Kj2571dsFCzx8/xVLVirlLVot+pSHaD+FUvI/wBhf++a2NQQG8c5xVby/wDaFUkK5Q8j/YX8quW6lI8EAfSn+WP7wpcbe+aUlZAirPCXkPyg59qhNu6nBAxWhtyetOeJeDuAzSSBmabdiQSgNL5H+wv5Vf8ALH94UbF/vCq5RXM8W3+wv5Uotjn/AFa/lVpmCmpYsEZIpNWGig1qx/5ZL+VI1s2P9Uv5VpquW+9SFFyfmFFguZi27Y/1aj8KT7Kc/wCrH5VqGMf3hR5Y/vCnYVzM+ynjEYH4U/7O2OlaGwf3hRgetLlHcNIhZJgcdTVW+tf+JhMwQcn0rVshiQc96juVBuZDnvSS1Hcxzan+4PypPsrf3B+Vaewf3xQUX+8KuxNzM+ynH3B+VNNoc/cX8q0yqjowpMc8HNJxC5m/ZT/zzH5VYs4il1E2MANVzbn0FAjGe1LlGdeLy3wP3q9PWq8ws5bpLjzsMvvXOLkdxT93uKlxC51f223x/rl/Omm9tv8Ansv51y27HcUm8FsZpcrA6aW7hZfkkQn0zXLT7TK31qTzMdCBUZUMc7xVRiDI846UZp/lDs4pfKH94VdiSKrVp95vpUPlDP3hU9tgOwz2pMZWxTfwqQgetN2+9UIaDig07b70uz3pNAV9LtXureTc6gpLlc1fDT2z/I5/A8VDFsiUhcAE5pTPl8Vm1qUadvrc0RxKu5auTXVnqEaB5NhBzWHvGOq0ZHqtLlYHVLd2yoFEy8D1rn/EDxXEsewq2O9VTjH3hUflrnO8VSiBAq7egxTjuNTCNf7wpNq5PNOwFZotx5UH6iozB/0zX8qvbR/eUUnlg/xrRyhcoeQP+ea/lQYB/wA8x+VXvKH99aPLHqKOUVxdOjVFcAAEjtWe1sC7HYvX0rXtlwx5zxVdVUscmlYdzP8Asx/55j8qPsp7ov5VpFR0BFN8v3FPlC5n/Zf9lfypPs+P4B+VaPl+4proFGc0+ULlD7Mf+eY/KlNo23Plj8qubvmHFWnA2CpsMyFt2xwtBhbowrRKejAUnlD+9VJCuZv2cf3B+VKIM9EH5Vo+SP74pVhXP3waHEVylBDiZTtAwfStK6UNA3eo1jAcc1M4yuDUtaj6GQLbJ4jH5U1rcDrGPyrS2ejimmHPV1p8oXM4QL/cX8q1LFAqMAO1R+QB0cVYthtYjOeKTVhpmUyHe31pAh9KtvEuSd2cmkWMDndVcpJVNuo5KD8qaIRn7o/Krpjz3GKXyuOopco7iWMYUsQoH0FWZsGJgfSok/dRs2RxVQ3EkzbScA0mtRkRhTPKL+VHkx/3F/KrnkLj74p0cMe3JYE/WnyiuVBaqRnyl/Km+Sg4MaflV4qTwHUCmfZu+4fnTsDZFFhcgAAewprDmrCW+D98UjW5yfnWqSsIrGgYqY2+BkuKcsMYXlgT9aBEG0npTgEHDcmpWjbHysuPrUfkN6j86TGixbnhselUj941dtwQGHtVdoTk8ilEciA0gqYwj++KmSGMLksCfrVXJK6Qs/QYHqafiKL/AG2/SpWjdx/rFA9BTPsrf31oAjklduM4HoKgk/1Z+lWmtj/fX86QW3qykexpPYa3M7SUK3EhIIGK1n+6aFjRBhABnrS1mty2VREznpj3NSqYouB87U545H6OoHpmmrbNn7y/nWpBDJM7nk8elR5qwbVv7y/nSfZW/vr+dAiv+NJVg2x7uv51KkCovBBb1NGwyqsT43EYHvViD5QxpJEfblnX8DRAM5Gaze5S2I3kZ85NR81YMByfmFJ5B9RWliCu3XrXnWs/8hi6/wB816PJHtB56V5zrP8AyGLr/foWgM6jwyP+JXD9G/8AQjW7WH4a/wCQZD9G/wDQjW7QkAh6Vc0z/j8H+7VM9KuaZ/x9j6VEykO1X/WrWfWhqv8ArVqhVR2EwpaSgVVhXHx/61PrUlz/AMfD/Wok4lU+9S3P/Hy/1pAiE9KqS/6yrlU3+8azqbFxG9qswfdqsOlWYelTTHItwIWY+wNRCrNl9+T/AHDVYVulqZiilpKKoQUtJS0mhpl+w/18P1pdY/4/PwpNP/4+IfrT9Y/4+/wrKPxFvYzxS0gpa0M7hiiijtQO5PcjDj6VDU93/rF+lQUA2FLRRQK4dOlMK5OafSGomVEajgHaKmqBV/eZqZe9OOwSFopaKom4VdsP9dF/vVSq7Yf62L/eqZlIbqP/AB/PVarOof8AH4/1qtTjsJhT16UyoJbjyjilPYcXqWHp8v8AB9KhRt6A+tTTdV+lEUDI6KSlqibhUidKjqRamWxURU+/TG+8aen36a33jQkDG0tFFOwgoooosBcsTlj9RUV1/wAfMn+9Utl98/hUN1/x9y/7xqEtR3IaKKKsQUopBS0wuOPSm05u30ptAXFpKKKBBTl+9TaVetIBO5oo70UDuFFFFABVq1/i+lVas2n8VJgitRSmkpgFFFFFgFFDdaBQ3WgLiUZooosFwooooC4oPNBpBzR3osFwpKWkNMQUZooosMtWnVvpVY/eP1qxadW+lV2++31qVuNiUZooqhBmkoPSigCQ/fWpp/8AVLUP8Yqab/VCoe5RUoyaKKskMmlB5pKUdaAHR/60fWrEv3KrLw4NI92Gcx4/Goe5S2EoooqyLid6tWnf6VWqza/xfSpkVEqHqaKVsbj9aSrsK4UUUUCuOV1AKswy3FL9kRFJ5zVK4B8+HaD15xWrJ9ysnuX0KJPYUlK3WkrQi4Uc+tFFFguLH1NBJyeaWPqaYfvGgYHnrSUUUxXCj8aO9JSew1uW7b7jfSqbE561btvuN9KqHrUxQ5Cc0lLSVdhBQOtFFDQhXzxUbkhTg9qkftUUn+rb6VD2KW5Fpkskk7hmJGO5rWbofpWNo/8Ax8yfStk9DWXU0KJ+8aclNb7xpyda26GYxuvWm05utJTExDSUtFFgCrMHf6VWFWIejfSs5blp6EbfeP1ptKeppD0rQzEb7tec61/yGbr/AH69FNeea1/yGbr/AK6UwZ1Hhr/kGQfRv/QjW7WJ4ax/ZVv9G/8AQjW1SQwNXNO/4/F/3TVTtVvTjm8X6VE9ikO1X/WrVCr+qn98tUKcdhPcKWkpaoTEGSwA65qSXIlYN1pIv9en1FS3Q/0lqOoIhqjIfnNXqoy/601nV2NIAOlWIPu1WHWrMH3T9aimEjQsvvyf7hqtVmy++/8Aumq1brczYtFFFUIKWkpaAL1h/wAfMP1NP1f/AI/Pwptj/wAfEP1p2r/8fX4VjH4jR7FAUtFFamQUelFKPvL9aQ0T3X31+lQVPc/fX6VBQgYtFFFMQUlLSZrOexcRQOOKfSL0pacNgluLRRRVkBV2w/1sf+9VKrdgf38Y/wBqpkUg1D/j9k+tVqsah/x+vVemgYVFJAshyalopT2CO4yP7uPSp5edv0qIDBqWTov0oiDIqWiiqEFPBAHJplQypI7Db0qJbFRLaffprdT9aIvvAUP9400AlFFFMkKKKKALdnnf+NR3X/H1J/vVLZ/f/Gorr/j5k/3qiO5RBRRRV2JAUGgUtADn6L9KbTm6Cm0AFFFFABSjrSUo60hiGilNJQIKKKKYBVq06P8ASqtWbU8t9KljRW70UGiqAKKKKAFFDdaBQ3WkISiiimAUUUUAKv3qDQOtBpAJ2opaQ0wEoooouBZtOrfSq7ffb61YtOrfSq7ffb61K3KEoooqiQoopO9AEn8QqSVh5YGeag75qERS+YXcnB6c1D3KJKKWkq0IKcv3qbTl60AIWCZJ6Uv2VAvmjknmmsnmfL61ZYbYQuegqHuUtitRRRWhDCrNt941Vq1a9WqJFRKrdT9aSlPU0lX0JCkJxS01u1AE9vy2fyqaQ/Iaht+tSyfcNZP4i+hSPU0lK3WkrUgKKKKAQsf3qQ9TSp96kPU/WkhsbRRRTJEopaSh7DRat/uP9Kqd6t2/3G+lVD1qIlSEpKWkrQkKUdaSlHWhgK/amBd5x609+ooj++Kh7FIfb2qwOWB61YY/KaKa33TWK3NL6FNvvGnJ1pp6mnJ1rfoZEbfeooPWigTCkpaSmNBViH7rfSq/erEP3WrKW5S2IvWkpTSVqQNNeeaz/wAhm6/66GvQz0rzvWv+Qzd/9dDQK51Pho/8SuEezf8AoRrcFYPhr/kHQ/Rv/QjW+KSKEPSrWm/8fy/7pqsatabj7cuP7pqJ7FIfqg/erVCr+qf61aoU4bCkFLQKKskdEf38f+8Klu/+PlqhiwJkJ9aluj/pL0uo0RVQm/1pq/VCb/WGs6mxcBFq1b/dP1qqtWrf7hPvUU9ypI0bH70n+4aq1asiA0n+7VXFbrcyYtFFFUIWigUUAX7H/j4h+tO1f/j6/Cm2OPPgx607Vv8Aj6/CsI/EaPYo0UUVsZBQPvD60Uq/eH1pDRPdf6wfSoKnuTmQH2qChAxaKKKYgpp607vTD96s57FxJFPanUxOakpw2CW4UUUVZAmauWH+vjPfdVPAFXLA/v4/96pnsUg1D/j8eq1Wb/8A4/HqtQgYUCilFKewR3ENSS87fpTO9Oc5A9qI7AxlFFFWIKevSmU9aiWxUQUYakY5anKfnpG6mmhMSiiimIKKKKALln978aiuj/pMn+9Uln96orr/AI+pPrUR3KIaKKUVZIUUUUgHHtTace1NoAKKKKYBSjrSUA4pDFNJRRTEFFFFAwqxbdW+lV6sW3VvpUvYEV+9FGKKoAooooAB1pT1pKU9aQCUUUUxBRRRQAUUo60lABQaKKAEoo70UAWbU4LfSq7feJ96sWv8X0quetStyhKKKKokKO9FFAAQSQKmkGIgKj/iFTTf6sVD3KK2KSlpKsQU5etNpy0MBUHzip5f9XUCf6wVNJ9yoluUtitRRRVkCVZtT1+lV6nt+9TIqJXP3j9aSlP3m+tFWSJRRRQBLAfmqSQ/Kajh+9Ujj5TWL+IvoU260lK3WkrYzCiiikNCp96mt1P1pyfepD1NCBjaKKKYgo70Ud6T2Gizb/cYe1VD941bgPyt9KqN98/WogXISkpaStSApR1pKUdaHsAr9RSR/fFK/WkT74+tQ9iluW6RvumlpG+6awW5b2KbdadH1NNPWnxjk1uQiM9aSlPU0lMlhSUtJTGg71PCeGHtUFTw8Z+lZS3KWxHSUp60lakDTXnetf8AIZuv+uhr0Q153rX/ACGbr/rpQSzqPDX/ACDIT7N/6Ea3qwPDJzpkH0b/ANCNb9JF9APNWNMGL4Z/umq56VY01le9XBzhTmonsUiXVuHQ5rK+0x+Z5e4bqva+gkKDuPeuAvdUa21D7PA25m6SA5VT71HM1YJHbA06sbTW1MWGZZILiXPBU4GK1YzIYwZAAxHIFbIkkVSzgDrmpJjmVvrWfdanFYMGfqDVT/hKNNmuzF54WRm4U1POr2GbHaqEv+sNXQ67N2Rtx1qlIcuTU1NioCL0q1bA7T9aqKetW7YnZUU9yp7Fy3yGZh2FR96s2R5kU/3c1Udtqk+ldC3MmOoqCK6jmyFPzDqp61Lu/WncQ8UhIHeqM2pRR5RWHmA4waw9a1KeG385yQoPGDgk1lKoth2O4sMi5hyOD0qTVTm7/CsjwrfT6hHbzS+XsxhQDlh9a1tU/wCPrPsKmGrKexSopKWtjMKBRSgZIApDRJNnIBqOp7tdsij2qv3oQMdRRUU9xHAu5zihuyuBMBzUZ61Th1WCV5F3hQgySfSrKypKoZGDKRkEVnKSa0LiSocVJ2qHcAMngU5XDjKtmrhsKW5LRSDpS1RAVash/pEf+8KptIkYy7AfWrmnOJGjYdN9RNlIW/8A+Px6rVPfuv26QZGc9Krk8U1sDFoqNZUPRgcU8Up7DjuLSk0lBpx2Ewoo4qKWXyzjGTim3ZXEiWniqdtd+a5Vhg1YinilDeW6ttODg1m5JrQpEq/epDyacgBemtgE1aExKKQ1kalrqabPGsiZjY/M2elNiNiioEvLeTZtkXLruAz2qcevY0AWrM/vAPeo7r/j6k/3qktPv596juv+PqT/AHqlblENKKSlqyQoozVa4eQDjGwjt1qW7K4FonpSVnRXiQSbZ5AoP3cnrUkWorK8oEbKEOFZhw1RGakrodi7RVCS6mjfJA2jk8VKl9FK4CZZSM7h0qoyTdgLVFNV0c4VgaXcikb2A+tO4C0UHHUdKKYgooooGFWLb7zfSq9WLb7zfSpewIr5oo70VQBRRRQAUE5oFKQBSASiikLKoyzAD3piFoqrNf28MauZFwxwOakhuFlUc9aVwJqKaJU80RlhuPQVBJdBZMKRgdSalySGWaKgS6jZsZGakWVGJ2nOOpFUhDqKMg8jpSMyqMk0wLVr/F9KrnrU9mwbcR6VAfvVKKYlFMkZlRii7mA4FZEmr5ljt3QiQ/eAPSm3ZEm3ikqpFOqPtd9uOzd6tBgyhgeD0oTuMfj5hU0vMdQ9xTJ76FHMBIEuOFJ61LdmNBTC6hsE8mqdzdTwMr+Wvk4yxPUVHBdJeIZYhlicY7ilKdnYRpU5etQR/IuZH69jUynn61oAqffFTyfcqFeHqSaRUiJcgADqaiW6GtiCiqVxfpEqlCrbu+asQzLMm5TVkktT233iKr9qntj8xPtUyKiQH7x+tBoP3jQelWSJRSbhSbhSAmh4apXPymqqTxpIFZwGPQZ60NdfMwIwoHWsZSXMaLYQjJpvSoPt0G7bvG4jIHtTY7pZe4z7VtzIzsWaSkpaAHJ96mnqafH1pjfeNACUUUlAC0nekz60o6UAizB91vpVQ/eNWoDw30qnI6puZiAo6k1EC5DqMVVa6yqtCA6n+LtUsc6yHANWppuxBJQOtFIDzVMB8g6UiffFLIen0pE++Kh7FItUjfdpaa3T8KwW5p0Kp60+I/N+FMbrTDPFCC0jhQO5NbvYzHN1NJVT7fG07JkDHTnrVoHcMihO4mLSUtIaoQnerEX3SarirEX3TWUviLWxGetJS0laEDDXnetf8hm6/wCuleinpXnWtf8AIZuv+uhpks6bwywGkwtjs3/oRrYW8iL7dwB+tcfBqL2ehIkSuZSCBtH+0ar6bczC8QX7OrNzz2Fc/tEpWNEtDvw6umQcirGklDfAIMfLXP3errbIiWVu10xPOw9K3dDaSSaJ5IvLYrkiqmxxMHx9NqNteW01owMQVt6noa57TF0wWLzG0O6U/Ou6tv4kTXqvbxWpUAqSdwzXDafoOqSRNOtwq55ILYWsebUqSO9sbho0jjhthDAw4b0+tPfU3kvPIhYnb1O3isOy1e9tNNdboJKyDEQiXIb8aqaXr19Jdl7pUWLnaGOD9K25+hFje1eW5ntQkcaeYW5DdxXJ6jZ6fFPJNLcL5gZcQL94fjWhrGqSXAt/Kljjjkk2MF4NZGs6JNpifbCqyAN97dyaxk9blLY7HRbhtTQq25bVQAi55/GtMoI3KLnaPWuI8P6zqCrLGERNw3KAv3vauwt5ZpoEkuIzHKR8yntVyd0EdywO9Rf2mkF2lr/Ew3ZI6CpAeKhe0D3MdwZQgj6jHJohuOWxtQTEAsnOV4rB/tKVtReOSSNbfOMZ5zV97sD7sEzjb1QcCuQt7a1n1mR4VzIfveYeCac6jTEkX9f1azsp45bafddL0jU9frVK18S3lzeEmFk+XJ5yBWFqUMY17dMyrJkDaybqvNYp/atvOcLCRjgYyaylVdwsdLeXazWqvZ2ouLiThuduPeucuJmsQF1VWkgWTILHJU1Y1LUbWG4MQkKyFcYU81jmESmIkvNz8/mDgA96zc7zKtoek+Cbm3u/3lsirHu4wMZqTxTcyjWFgDMIwucKcHNHg2wtrKOL7NtIc5Lqcg0zxfDnVfN4ZgmVG4jmteZoVitHrKQtieXGRwrDBFP/AOEgga8W3SN3z/HjiuWd7q+dFv7M5U4Vkfp7mrNpJfW9x5hQPaqdqrnk0U6zejJcTp/7TT7Sbdxh8ZGKzm8SpDeva7S8it1HQCsy+ldmlu44E3Bcbc/NXMrJMkhkniaBpecEdvWnKsFj02LxBbag2QWyOCccVn6jqdxCzeUwHGVBHBrD0e9MLsLd12YG7eOTTtTjudVWSA3H2cDkAr1pzq2SBK5s6d4glurcosatcjgjPFZ2o3mopJi4CeU3Qg9DXJqt7pVwyxrJJGD98jhqvXuqXlyvkzuIwQCAxyBUSqNopRHR280l1Iz3W4dAyE9PQ12+lSeXpsZeMqVGB9K4DTtP1O6hYwzhkjbPyHg/Wuz0d7iKwEd7Fn5sBlOfzqVJ2C2pZ/4SG0SZopwVYDpXLNrt5easRpqt9lD/ADbjVnVNGur2++0mNI0Q4QiT7w9TVG00WOwm23V2EjduCjYzVxqOwONz0G3uF8hWmmXJGc5qWK4jlB2OCPWuZmjge1MULGQKvZstVXTbi4a6WKOTKjqg4I+taxrXdiGjQ1+OeRoxHcjdG2SPWuk0K4MyxKDnDAHiuV8UW4jtUnhAWc8Ft2OK1vBM8c8alSN4IBAOaiU3zWKSIvEN8YfEU8cbbXxwSeAaba64s9qxeRQ8XD471X8YKo1ieR2RQBk56tXIx6pHcO9rbIYpHb5Co61EatkDizbm1gedNeqx8qPqgNa2heKoNZl8qCNxtHJI4rjbjMNjNaXYCyn5mYL1rc8CxqLR3gVI9zEFiBzRztsLWO67VnapPdxwgW6gMT1PpWhGGC4c5PrVHVrd1PmfavKXHQ9K3m2o3QupUuLt47DaGImI6+pptpqTyxqt4NueM9qp3FxK6SQkgwlfvKOv0qvIbWKzWF5ZGiAyd56VhKtYdhmqS6obtJLSIxQI2N2/79atj5USfumUyE5kCnjNczdX0UsY8qZ5UUEZU5Aqnp5u1ka60+TYp4beetc/tdB2PTIryOMorZ3kZA9aQXcUj+XuAkbouea5CXUZrbTWaWH/AEhxxIXyT9K5/TJNXR1vSkryRt8vy53D3rthVTIaO61fVRpUDtNLhVGQ2OT7Vzl9q1tq2jGaWCKGWU4R3x8y1i+Jrm/1ae2iuYFiDE5RRnH1NZWo2LR29rDFL+/wQYwMYpymFj0fQGtPsZKYnROFbrj2roYrmJowQQAK848Px65Yae4Hl+WfurIec10VrcXkE0cdyiPHIMgR+tHtEFjs9OmSWTC889aw9auZbPVHn3/u92NoPWpPDsssmqyrg+SACOelYniq683U5LeLHzZLlunWo5+o7F2bXChO2RGZRuYAjgUuk+IH1WGSVICqqSFzXnwtbxY5po9sgDbTEepHtXb2dtOuhRlCtgiqN+1ck/jWvNoK2ojXd/GZpp2IKZ2IO9VjqdzAYJzdM4lOHQrkLSXFxFPEUFw7cYD55rGdZLBgUeR1CnCbjnd71x+3d7F8huahFFc3PmSX3YGNQvStF72JdPhieR2cchhx+dc9Bc6nqNkJzYtGg9U6/Sq7x30qG3aVIkU5IJwayhWcW0Dia95ruJEtXl81Dgs0fpWpaXsEFviBD5bHPWubsbTTpALbc7zd9rZq21pLaIVUhUIIOeoq1WkrsOUtXmp/ZyxtnLSnJb2rIjvtTvZhPdPtWMcLnFVlimNswgm3TbsFyvNWvs4trFHnnIlc4IdsZrKVeTRShc6Dw/fPevIGlyFPAro+1cjpdtbLco8coDHGVQ5ya61eFAr0aEuaCZlJWdhaKKK2JCrFt94/Sq9WLbq30qWUiv3oo70VQgooooAq387W9q0gkCYHU1yEnid4ZRDLIW3H7w7Vr+KYYZLQGYykAYARsVzH9jW20bWC5GS7HJH4Vx1qrjNJFKOhrXfip7G5jtVHmK3Vl5IrX07UYLiP99IrZPAzn864WztXXUpY4m3sVxmQYJHtU0UV1b6hi1ZC2DlXPQ1Krvnsw5TpdatYncMrBUVwR6AVLLrUFvEnzIikhU9XrnrvStcTddPdEsBkoD8rUyzt57rMs0UUjN0LRgbfpVyrcrBI29R1N4btSi7WC8NnPWqlhd+XekzFzE6bg7twT/SqVyLaEPHHG80rckg4Cmq/2qyEqxzl41OMLXLOs+YpRNNdakubiaG15ZT8vPSt3S7+S3tAlzFmQH5ivpWPb21lFKJIfJ+bpgcituziiwWDOx7szdfaujD1HJ6ilGxR1PU5RqMUdu4ES/M+DyfanW17cyS75WVYyfudTisrV7Z4dWYyZe3kOAEGDV6LR2lshMl1NGeqqe1Epy5mJI6fRbjzZp+CEUcZqGXUEywRxntz1pmgAiGZH++q4JxjNchIbYXqRrMUfeQcNnir9pYLHVQ37tGzsenXmuXudStJ7shJFDI+euOauf2Xa3TskV5JtHUCTg1hanpMNkGlRQA4xjdk1nOo2hqJtxahBfXRafedi5UL3Iq1Y6vLPesZIZI4k4QEDmudtdOeWCIxXjRjbwK6L7DDLZRrE7+Yg+d8ZFKnVk2DiXr3XPs9zHDHhyxGSOdtYvie8xcw3EIm+0J0+XisqSK5j1ZkRJWif703ZR9Ku3s7W8CtcXnmKD8pA5FTKsxpDhr1xfxLDcQtuPTPy5/Kr0F5awXKtCs0c5GwBuQT61gi5Nw8Zspg2fvEnaaTVbXVrSFLmOVZYyRu2nJFZKtLmuxuJ1MCXMjPNdyEtnIVaksdVWbVjC25VRehHeueiW4WeO4juJMkcrnir6XN1bTrcJGZo3PzLGuWNdEK7bsS1Y7BHDEEdD0pt4Ymgfcy5C+tNtpBJEj7WXPVW6is3xRHPFpE0tlDGZQMndxXTNiRyY1GOTWeqvBGcOT0/Cuk+1iREhtyId33FA615oLG8W1+1uGTc+SM8Vu2+qX3nRiyKyME7isVVs7MfKdTearPpoJutuzsQa3tFuVurETqOG5Ga4iVJ9RgVb6zV5uu49MV1/h/C6R8sYTCnCiphVcpjS0I/wC1rdrl4Q/7xTytWfPTZv3DFcEZVh1Saa5DW5djhj/EPatifz47NZoFc+hZv6VrCvzJkWJ9R1prK5j2DMTn5j6VYi1Bbp8M+VPKlTjNcqLa5vort5hLwf72OPalki+wQARk+Zt4y9Z+2aZSidhcosqbolDSqMA55FVLQ3cLTQ3luxRE3LMx6+1ZmnQGws3urm4ea4cZCjnFSprltdKYLmU25PZ25NRUneRSRXv5zewBLdCjkYLHj8jUUeoS2NvbWjtmXdgso6D3qC5tdQvYJo7eZY4o2yjK3JFZmmz3UDzrOUnkU4DNzTVRoXKd/byCVNsc+/3Has+fUbm0uvLuWXyh0PesiybVoYJXtRtUfMS/f6VCuoR6u6xahARKDgselXOtZInlO1067a4XzSu2Mjgk1Sv9Wt4GbE6hl5Kk1FDBZpZhBckKBwAeK5PUbI3M0s0UKzYbA7GtJ1WgSOgg1+S6kB2FYyeARg/Wtj7ZGseWYgY+8a5OS3jWyj3yFJ+AsQPOabeLNbGNjcMjFeQw4qFWYcpoavrbFUitZHEpP3lXIxVNfE91JbbIgkcyMAwbnNVRFK7cMYlcDMnUGobjTZ9zGNdrgj94znmoVaTZSjY9KsWY2iyNySmTXM3+u2Kzm1H7yRusddFYgiw2nk+Xjg+1eZ38TPrTeYrO6OchTkgVcptR0E1qaxu7sK09lAzRxHDQZAAHrT112W1nAAMhYcKvOD6Viyz29tPt3ypG/DEjGPrV7TobMuBbSefu/j35ArBVWtR2OrtryeWFTMgiZhke1UrvU1XUY7cyH5eWwOKwZFu7DUGkfUCYP7r9KY0qSSfbhN5KMeM/Nurd17i5TvFkEsauv3SOKchO8VRtWuZLZGBwpHGauxZJGea3TvG4updHSmv92lXpzTXOFNZLcpmXfXKRRkmQKaxl1SO9BtkUFscyEZWrWrQJcW8iSRhCw+9XHrJcafbNFblRuOMk9KVWdtCUblqklnfM7sjxv26kn2rZ+0yEBnkSP0XvXD2LahHqEcTzGRW6FjkCrVzKz3e9ZTHJHwSx4NNVOVA0d1FL5iAiqN9JNbfvIpAWPVGPWs3TbrUblAFjWKMf8tSeDWN4gh1FrvzIWeVyMAr90Vbqe7cmxtx648mpQ252nceVB6V1ceNp+lec+GhILmPzbbbKrYMjdTXoikhG4zx0FZQm29TS1ojM1XkvIYpNkjhT71H588wPlxFMd271y/iOOeTBVyHzk9sV0SlZGZ132mEvsEgJ9jXnmtY/tm6/66GtzRrRBFHcG5aST+7nJrD1Yk6rcErj5z1pxd0KRa0y+UabCGtHdjuyVHT5jWxaR2tyczJtPow5/OmaPsTRYpDgDa2Wx/tGsqLVIzqe2afKbsHFedK6rHVGHuXOtitLAMrRqoZeQQK2dMYG7QDstUoTEIldNvl44NXdNkje/BjGBt5rtnsYROZ+IkirNbBpzDlT81cfp1xd29wirD9sjHKkPgV2fxFMG2ATQrLhSdpFecSXr3RiFvG9oicbkPWuJ35jv9muVOSO7n1eIM1kbeN52XcF3Disu00y41DUhJdJDtiPyqG6U2yt457drsBkulTaGI5as+1a+OqK9hCwlU/NhSFNaNv2iRjGmnTci74zt5I1j8uxbZH83mqePyrnbTWEdfJuJZJNzD5GbOK6DxbDdajZwvcOYZIhmRFYgEe1ctc2mj2pim0+aaRuCwcfd/Grq2sxU6fMk+h3+gWEM+bgyMN54XpituVdshXOQOhri9Lmku5W8okQqu4lTz+VdZBgQrh2cYzlupopv3CakVGWhOtUzJMdSSN8Lb7cl885q2tcx4kvJf7RtbaOEMB87EHDEelXF6kyTa0O0gjg2uEcEsh2s3Ncde2Ukl+tukn7/wC9nGB+ddbZTyyac0otvLxFwG61x91qi2t6ztJvYDJQjofSueu/eN6FNSjqRxadaT6g5uXIuIz8xkbKn6UkktjNJjzoUETYX0zWPqWsy3TSSmBIRj5VHX8qxbGxlu5FyVTc+dxbAxmo5eZFciptpq56Ji1CrJJbxSyMvB25rktbu1juGDSfZV/hVE+9XS3c1pp1vG8EiOVwrujcVzOr3tpqTr5dt+/jbcsme1RFONTYIxXI2egfDKZpbGIkHhzye9aHia5u4teCW0SPlATuqp8PNWfU4lVkRTC20soxnir3iuWWDVhsAG9AAxHQ10Tnyo51Bs47VFmubjzvPkgQjDQDkE1LHbRQrCdwKwjJffyPoKZd3OxfMuGDtnllFQ/2hDdjFtbStMDgHbgfWuaE9bnX7KLgmy1JOwka5MTyqeBz8zVm6mbe4KzXsT2zA4RW5JFXLA3qagwunHlovLHt+FZniFl+3ic3ayOFxEQQQPwpaqREYJ69DqtJfTTaJOFiMqHaCByao6rGLq8aWS5EfZAv9aTwpZwzQM8DGWQ/6wP0HvWdrumq+oq016sccbZwlbVZe4gpU05S0L7XMlhaCTyVn3NhQgyR9ax/EFy80UVwylJsYMGOar/2i3nSRwXWELZXFJdagiRSCZkmZ1++Rgg+1TFvlsXCnBu5W0/WbyxYxxzmNGOdo5ya7XRNeVtNZbiGUvySdvBrzzTobKGQyXfmSE8qV6V6XpCxz6TFM8SZwQuT2qm7GVSNjIvL3UryMGzjZYs/L8mM1iXI1drqOC+8tgW3CKP+tdtdJcNZ+TG3bI2DOPauO8l31fzb2Zg5bG3PzD8KmEtAUGldnSajpzrZw3SyGEIgyAOlJZLZzW4dbwR3BH+sX+Kle8tY7MwPJL/usOG9qh0vTv7Qm3RiG1AXAQpmmpfvTNQ5oOQ3VreSe1WOK5PzdGJ5/Kuj8B2AsYyDMJJC2TgYNc9rFhJBMsKXwaf+6qdBXS+CZw5Mbr+8VgC+OtCk/aWEo2VzO8Z3ttFrM0c1uZQ3DADoKxbS1t386e2sl2ouUY8FT7VueKbqex8RyujIySYBUjJFZ0k0bWs/mSSLGOWITvWDlaTOnkTOO1O5uI1zcQB2kJORyRWv4ES3vLp3m81SjfKqHAP1rntdubLKiNJWmb7pEnGPpW/4JRYJHacuJR8yqozkd664bGVSCWx6lztwtYPiwT3dq9syMY8AlgvStayuoJ7ZZUZtrdmHIqlrgWSVbl7rZCg/1Z/jreq/cMKaXNqcqYZbO0WCCPcMBjIfT0zV3yrKZEgWJ27sW5AqO41GCa3ZYLZ5ZF+6i8Y96pW168l9HaXeDNjjY3868ybbTOp0rM0rq2jhtfKEETRdFjC4yfU1TgzY3ZBt1S06uB/StHU7yCyt8lluHj5KhuQKxF1eZ7/zIW8u3YDCkbsVlC9tSnS00Ll1HazwETTPJECXGRtIPoBU2gSsYj5VtPbqTyuzJI9aZqE8QtVa48uZmACtEw3D8Kv6dqcFosb3V5EqAY6/Nj3rspy99JmFSk0tDnvEXhpYbv7dYzSR+Z9/ceM/0rAeCWwSK6W3curZEpbKn6CtLxN4oa9u3XT5Wis14LgcMa5i4YySxeb5/kKASpPX6VvO7emxVOMVpLc7fTvFF1dIbSC3QzMfmbGAKvwXKzapFG7s8pUgfLtx61X8PwW97avNpEG1owAxduhpJrg6fqEc9zcJc3UY2lVGAorG7LlGDfKjufDtlHa3RdSxZwOWbNZOuXtvBqU5ijWW5Vj+7xyaveGnnm1FpXlTyyoxGvb61l3sqzate/YFVL5ZSrFupocvdQoU/edzlda8QNbakwt7RUuGUZKn7oxzmug8J3c17ppbezl2Oe61wmtWgGsz203mtqcmMJjgZrsfD10NH8Iy29xE8E9tKUcoM5J6EV1Rl7pjUgk9CtqFn9kupZHmXbu3MgGGPPSiHU4ZL0MYnjjHIGc5p2ob5pI2gTbKwHMncetJHHMkm57i3ZCjbFz1b09q86Svc7JpSilHVnUxXE32eLb8oI+6RkYrIn0oyysrRp5cjZc7uWpkWqstsLePbHdJHuwTkfnUV1dF5IbiafCNHgFTlSazUnbUydG+mxqDTrO0wEMcch5A3iqc00l24gFuHVJOd3Ssj7ZFDdfvonMqYKo461q3msfao1Nqggj25LEY+b0q1blb2HGnfREc98trEsVvCiTs3ylulYNy93cO0t3ISxckKOlWLVpLWcicZZxxkbs5qI3iQ+cSoXaQOucD2rNXtY6+SELOR0PhKZoZ3THykZOeprslbcucEfWvNNEu5Y9XTfOyRbgc7eCK9N/d7VbzFw/TnrXq4V2p2Z5mJalUbQUVYFjIQDkc+tKLCT1H510XRz2K/vUsHOfpU40+THUULavEeSMmk2hlKlq5/Z0meoo/s6T1FVzILFKirv8AZ0meoqCSExS+WzDcRmi6FY5nxWgl0oxvtCsep7VwMP2+1lPkv5gHJUjIwK7DxqsDWrEXRFxGVIj3cEZ9K4mye63F33NGD0B4xXn4j47noYZw5bPcu2mvySyvLdWx8yM/Kx4IFbFvDaSo15BHJv27lYN39Kx2jt7y5Eo2R+aMEdNuK1NJWdJyIHEkYHyox4IFcvN72htUoXjcbq+p3Udm0sKEsxC8NjH4Vbsra4Ow3dq6qihi0fQt9Kq+J7rT1tI7VoMTyYLAHBTNU7f7dDZ+St65hOMFVJOK3qOL3OX2ElG7NzUtMXMUyyK2WwygcjNZN7FaLbG3UIFDffcZI+hqK01t8yxXY5/5ZEc/nT7uRNRs2RZhGVPByCM1yzbctFoVCn7tyBLUWsLfvCS33MJgVu6JabYna8mM5jGVVWzg/WuVa01OOSMm9jmjfgx9K7DQsRwut8m2JRxKB+OK66Foy1Cbi4WjucvLe39x4hT7QUiZiTEgGdo963rK/wBQiQy3v76FT9+MYOKr38L3F/FqlrMVjL+WiuvLr6j0FTBjbhjLKqor7RF13Zqas7zNY0koanS+E9Uj1P7Q6K21RjLVzut+WmoCeONcqcfKMhh71ueD2tpYrqS2gMBI+de1cZrEzR3JEDvPGS3zd1NXN3SsYqnaTv0GTCS5Ny9ncCKUnPk54Ud8ViajdzEwI8jfKPmYjINatt/xLLR9Q86OVXOGSQ4YfhXP3moT3s7QqcwMfkAwMCizNE42ujq/Dd7cXcrxvcRyWxG1SRjbXUQi3+0fZYbwhvvMuetee6TE9oDDAjSux+6OQtdNodr9j8zULjJkdtox1UUudE1KNnoOv7y8bU47ZASofnYu3IqHWGM95bhrRNp+UEjOKTWLuWZhqkcQlSA7QQMVz761KtwLgTLNF/FG5+5WUveWhEKb5tTqIntPtUVsyIrAfMwGQKsy2VolxK0jqwYfKP8AAVyMczAve+cohlOMKK0X1B7iFCj+QYh8pA5NZyTSsbqmpfDqzctI452dYnUQKhXbjBBpdMN8uprCZlEQ6luSw+tc9HFrls0k8s8TpjfHzw1a+h60zXq3F3Z7VPyDHOPfFbU9JIznBct3odtZ7wWLSbxnjiqXirUVsdCuJZbZpVA6CrtvLHPnygVye4xVLxLDGmhXBmuWVSvIPOa75tWOSnG7PJDrbXsyInmBAcLFnAFdTbXkljAjppoSZhy5bOBXBS20c02yFsS5JDAYrqbT7RBp0U1zKwiVcFyM1xzdj0I0eZWOla4lezjm2Yjc/dFdVokgOmllAAANeXza9dtYG1sleRCcBwlejeENx8OxecTu2ncTRSj71zGpBRVjlhHZ6tdqJoyNshyWX5fwrdu7e3SykSAOcDlVOAa51YYYNTnSO5Mg3nA6KtaV9p7y2RuF1ARlVzycZooytFoznTtJRMhnvY7ZTDI0ak4wvLCq7W4iglN/ekhjkNJ1BrOsfE09vqDQSQh1Pyow5OfWreqaNPfxm8mlH3dyqT3+lSrpotU11Ov8JSSX1o/2hEeJOElz1FSaxZwTknyEcRchlHP51zfhTUp7PT7hd4YrwFAwRW9DeLdW87LeIsmzJjDAc0qsuZpJB7KxhXV8kWjT7Qvmp8o5wRXMW9pd3jKwgJ3Ny5fpVz7TaFp21BXG4HCD5tx+tU9FNzFdtLGS0TdFLHAqmmki6cU9WjsNLkeK4ImZ440GDzwajuBLJKZSF8onjB5qj588XmstwrxFdr7hnr2FZMt44tRBFNI7B+h6Up6pISptvn6HojyQRWKkEO7p90DI/GuI+13dnfu5tZBE33lj4FdHbyPpmhifzBOgGZD3BrNE0F3Zs0NysTMTuD8k0602rEQpqbdiGaa1jvBKsTpcHDDzB0roLq5juNPjlNssyYycd652WUiCJkZJtnB38FqmQBrFVac255/dDkGiEvdY1G8uVdCqmoXqzEBAq7vkjI4UU68XULxGLTuIwRlcYFUZNTbT5CklqZAp+XPetS01iXXonjggMSgDII4/Opu7FOEZT0PQ9PTNgq7sZjA3D6V5l4rRdO1SO4tbku54Y78sK9Ms1IsAvcR44+leLeI5pDrMgkB+VsdMZ5rrfwHOo3nY6zSAt0PmgEisP4lz19armJLS6e3iXyoXP93j8KTR9SzbBNyW4AC5B5NLrTsl0EeZnQAHcDmuDW9zqdNXsSiydYJDJOs0BP3GGCB7VDDCoQrb27tCpyA4yKnM6+SrQxFI1AJ3j71QXN/5rIbN1CYw6jpVSvcmlS6nX6NNJc2Cu7ADoEUYC0947iG7h8lvkLfNmqmn4htI0sYtu/li/H5VZW2uzdRyNctsDZK4r0YP92jkmv3jsbpqOTocc8UZzSMflpIbOW1+/exhZrhFkjfjYv3hXEz+Tc3MQhibY3LZOPzrqvF9istibhbtkdDyK5iyDfLDK+1CPv461jXepdOF43LGlxn7d5cVuZIwfmTdj9a6e/0608lVigAU/eVWrlrKyik1siASiKE/vGB+/wDSrmp2M0Urz214sJJ4jBzke9J/wio0258p0Om2M1valRK5hP8AyzznFY2rwmydZrd2AzyjjOfoa1dBvLlLEI9sXk9Qapa/rtokTxNCWuh0C/MAattKmrkum3NpGbo96bvXIzIGBzgDPFekDb5bbvu45rznRHnl1C2eQqAxzivRoxuVvTFKi7hUjyqzM5r2CFAIRvA7Jzj61ymtX/2u4EMsLBgfl2nqK6wizspmkChXP3sVxuoJC2sm7hu8hm4jA5GK1ru0TOlBzeho6FDFaXEk0m5ABwjD5jXOa1fq2sXRWNsF66KBZbq8SdZSWAxyvBrC1ZSmq3AfG7fzxV0neJNRWZq2knm6GtqJRESrc/8AAjWJaafLb3uFhacA/eAzmpNL1W0TTY5ZYnKsGAz9TT59UeyBmjDiMn+Fu1cU53qnoUoWoO+7R3FsXSy/0hRHGF5yelX/AA7cw3NwvkD92oIz615j/wAJpbLnzbd2UjBRmyDXe+AtSTVI1liiSKNcgKvSuuT0OBXTKXxEimmvLNEcIm07jXJxQRWRQFlxncCeprqviVeQ201uZScbTgDrXn91PLqVuhspWJAzs21wzu5aHqUuWEVzu9+h28mo2aWKgRMZQOijj86r2k0qu9zaMCFXJUjFcDc63OLeKL94jIcHB4NOutWlVke0kkRdvzDPBNack5NNmDqQg2orQ0tc1C61W8xeGRYQOAvSsW1KRFtjGTHXPFSx3VzdxSLJGS20nNQYRbN+cMw7DkVcr7MINu8o6Lsdt4c1K3Ro0aLdcBsb844rrycvu27c9q8XhvGSExwKQ7dZM8ivVNA8waJbea5dyuSxNVFNKxjUlGUrxNYVz+sWVjLqsFzeThFjGSoyCfxrfXkVyPilGkvlVX+YxE4wTU1NkaYdXbRNdeN4bf8AdWW9kHy5PpWHc6mbu4F3LGhU8hCvU/hXNx3iQTMjwsWHBBFWU1EM6Hyfu87MHFOcG9SYS5JWLv2lNRKrLbCOUEjeOgqMyrZXKqGBK9vWozeqTvjA8wjOPSqQil1C7QFm3scYx0rOKd7vY2nyuPJDWTNKKWS+udskTKjMSQKqalbXFvM/lIfKXkNXRW2n29nH5ImLTlCdxzVDzk+yyxsrGNUy5bufasozbldGjS5XTq6M7f4ShhHJuBGZO4x2pfiVevZ63FiU48vOwA034S/clHmM37zuegpnxGRJvF8CSEbfJBIOfWt6qXLqc2G53L3dzlVnkvVilXO4A5TBIanTamPsrqbeSHdkfLUWoz2thJEdk6ZGV2kbTVK+1eC6gWEQuAOTznNYwpuT20OicuXr73USAW85kLXk28L8qFv61JdQvY2SSOhkdup6gfjVfT7azZjLJGxHba3zVqzXmxGeKDzbdhgRluR+FE789kKlDlg+bqZ1vqs2nI4tZyryD5gDUdu97qdzHBLKAmdxG6s+7kjkulLRMpY8KqkVt6bBY2ckcswYzOMKjdq0qpRjbqZ0XKUrvYg1azks7qNIt4Uj+I4BqCG38wM1ywOOQAak1nU2u2jifaJIyRgmqdvLPFKrFAV74NOMZezVwnVjGq5R1Q4RG4mCxyMEB9K9N8LTQx+GN7/OImOR3rzq9bZdRSIfs/yhuOd1dl4ZuLZtENslxunYkscdR6GiStEzveavqiLxB4il+yNLBHJbRA4Eq4+auKbVC08cpbfK+dxc9fxr0HVLaCeCO2lt3e26lU6A1wmo2kVrdNEtqAoPy9TxUYdxeljWvB8qknobWjSyyBHuJk2gllTOTReaxqKyE2YKjB+XOD9az9Ns5bjEm4qI+mOlW9Wi3WTZbbOi9Qaiy9oXFfu3yq36lXRb6+trs3d2jjPdsktXo3w8vri91S7aYKqlwVUDpXnemC5n8vaxKrgFn7V6Z4BMT388iLtYMFYHuR3q1b2hnKDdLUxviBqo0zxFJ5aeZM+Aox0rm59QvmkhFwj/AL1s7FPFdR40tTL4wdyECIQdzetc7rOqJFEhjkVZo2wSBnNZNe/aKNdXT5paW2MDXLq3mudwi8t1GK2fB+uNaxyJKmY88PxxXMXTW9w7yEuXY55qO2kEB+Yvz1CnArshGyOWpU5nodH4rv573V3a0uGEG0ACNyAD3qvpmpS2UUkLwm6WQDP2hycH2rImmBjPkxlfo